When you want something sweet, gooey and chocolatey, brownies are the answer. When you want to use up leftover beetroot, did you know that brownies are also the answer? Well, they are!
This recipe is quick, tasty, vegan, gluten free and low FODMAP (however it's important to stick to one or two pieces of cake – everything in moderation!). The brownie cupcakes will also keep well in the fridge for a few days. So, there should be something for everyone in these tasty little Beetroot Brownie Cupcakes!
This recipe uses a half cup/ 64g of pureed beetroot (which makes at least 9 portions). It's important to note that 75g (approximately 1 small beetroot) is considered high in FODMAPs (Galacto-Oligo-Saccharides and Fructans) however it's all about portion size as 20g is considered low in FODMAPs.
Since this recipe makes up 9 large cupcakes/ muffins, there is approximately 7g of beetroot in each cake. This amount should be tolerated by most people with FODMAP sensitive guts. If you use smaller cupcake cases and portion the batter out over 10 or 12 cakes, the serving size would be lower again.
Chocolate is often a "No-No" when following a Low FODMAP diet as it can contain lactose, however this recipe uses cocoa powder in the mix, which contains no lactose (make sure you buy pure, unsweetened cocoa powder – check the ingredients!). We used dark chocolate (85% cocoa) in the optional buttercream icing. Dark chocolate (85g cocoa or more) is a good Low FODMAP option.
For the flour, we used gluten free flour (Dove's Farm) instead of wheat flour. We used oat milk, but any kind of milk would be suitable – lactose free dairy milk, soya milk etc. As there's no eggs in the recipe, it is also vegan (as long as you don't use dairy butter).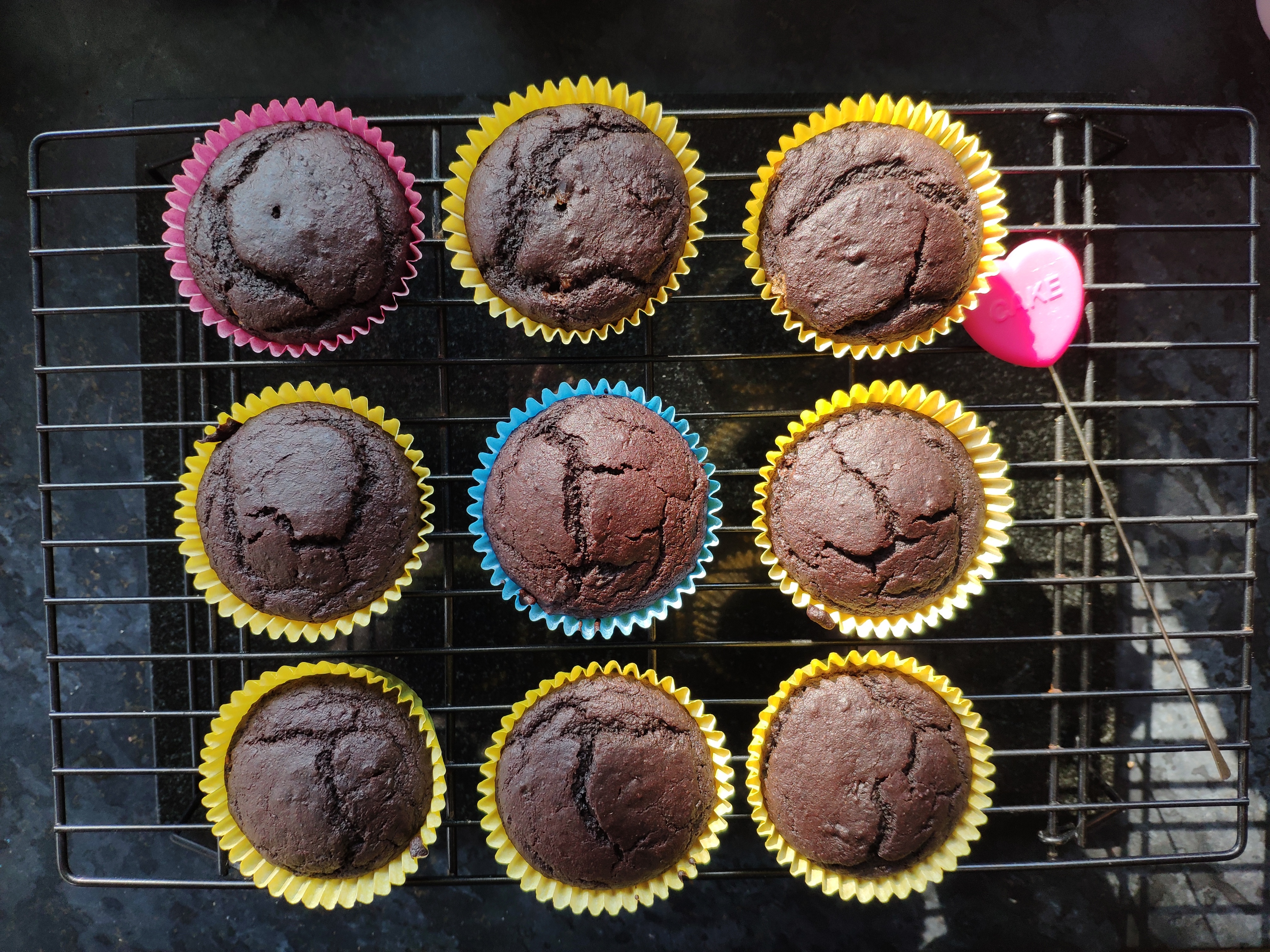 Recipe
Difficulty Rating: Easy (as long as you have a food mixer or grater to puree the beetroot!)
Prep/ Cooking Time: 40 minutes (no more than 25 minutes baking in the oven)
Serves: Makes 9 large cupcakes/ muffins (makes more if using smaller cases)
Ingredients
For the Beetroot Brownie Cupcakes:
1 small cooked beetroot (you'll need 1/2 cup/ 64g puréed). You can buy cooked and peeled beetroot in most supermarkets.
1 cup/ 240ml unsweetened oat milk (or whatever milk suits you).
1 teaspoon white or apple cider vinegar – we used apple cider vinegar.
3/4 cup/ 150g granulated sugar.
1/4 cup/ 52ml melted coconut oil – you could also use olive oil or butter if you wanted.
3 teaspoons pure vanilla extract.
1 heaping cup/ 125g gluten free flour (if you're not sensitive to wheat you can use wheat flour or spelt flour, but remember this will add to the FODMAP content overall).
1/2 cup/ 65g unsweetened cocoa powder.
1 teaspoon baking soda.
1/2 teaspoon baking powder.
1 pinch salt.
For the buttercream icing (optional – they're tasty without icing!):
1 and 1/3 cups/ 300g dairy free spread or softened butter.
4 cups/ 500g icing sugar.

For vanilla flavour

– 1 teaspoon vanilla extract and milk (as needed for texture) – this can be any kind of milk that suits you – lactose free milk, oat milk, soya milk etc.

For chocolate flavour

– 2/3 cup/ 100g dark chocolate (85% cocoa and above), melted. If you don't have chocolate, you could use cocoa powder – approx. 5 tablespoons.
Method
For the Beetroot Brownie Cupcakes:
Set the oven at Gas Mark 5/ 190 Celsius/ 375 Fahrenheit
Puree the beetroot in a small blender (add water to encourage mixing if needed but not too much, you don't want the mix to be watery). If you don't have a food mixer, you can use a hand grater – this will get messy but it adds to the fun!
Measure out 1/2 cup/ 64g and set aside. There will be a little left over which you can reserve for things like beetroot and yoghurt dip or as a little sandwich spread (remember to watch the portion size if you're on the Low FODMAP diet).
Line a muffin pan with liners.
Whisk together the milk and vinegar in a large bowl, and set aside for a few minutes to curdle.
Add the sugar, oil, vanilla extract, and 1/2 cup beetroot and beat until foamy.
Sift the flour, cocoa powder, baking soda, baking powder, and salt into the wet ingredients. Beat until no large lumps remain. You should be able to do this by hand but can use an electric hand mixer if you have one.
Pour batter into liners, filling 3/4 of the way full.
Bake 25 minutes, or until a toothpick inserted into the centre comes out clean.
Transfer to a cooling rack and let cool completely.
Once cooled, use a knife to spread the icing over the top of the cakes (if using). We also topped ours with some crumbled-up leftover dark chocolate Easter egg!
For the buttercream icing (optional):
Beat together the dairy free spread/ softened butter and the icing sugar until smooth.
Divide the mixture into two parts if you want to make one vanilla and one chocolate icing.
For vanilla icing – add the vanilla extract and beat the mixture until fully mixed and smooth. Add milk as needed to get the required texture. You want to be able to spread the icing but you don't want it too runny.
For chocolate icing – add the melted chocolate or cocoa powder and beat together until fully mixed and smooth. Add milk as needed to get the required texture. You want to be able to spread the icing but you don't want it too runny.
If you have leftover icing, store it in a sealed container in the fridge, and it will keep for up to two weeks. Another excuse to make more cakes!
Now all you have to do is wait for them to cool down (or not)!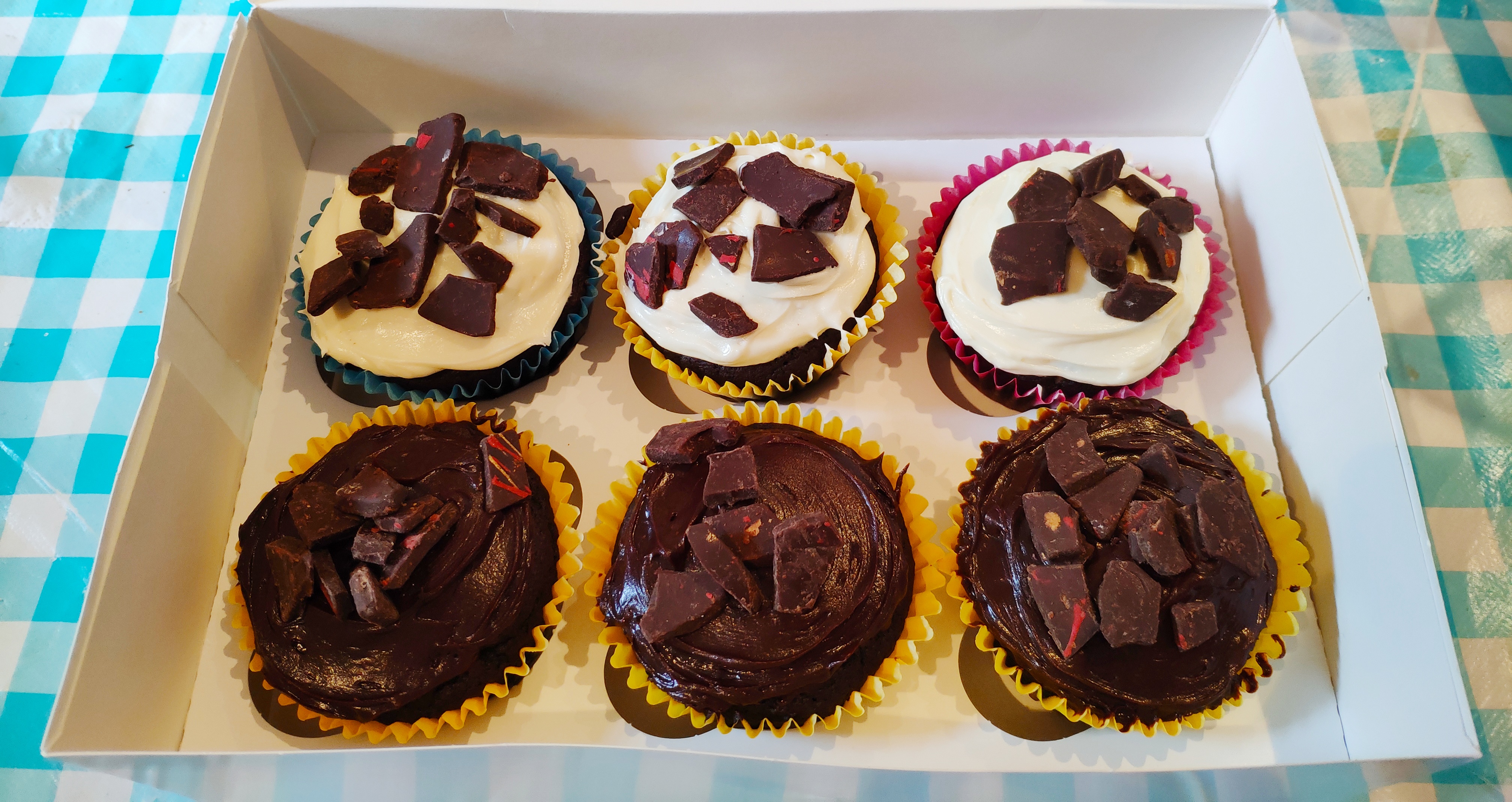 FoodMarble AIRE is the world's first personal hydrogen breath tester. It is a pocket-sized breath analysis device. It helps people with chronic digestive issues determine the foods that work best with their digestive system. To learn more about AIRE, visit www.foodmarble.com