You may think that all legumes are out the window for you on the Low FODMAP diet, but did you know that a quarter cup (42g) serving of canned chickpeas is low FODMAP? Canned chickpeas are a lot more convenient than their dried counterparts, so this is one of the rare instances where I'll be recommending a convenience food!
We try to keep all our FODMAP Friday recipes as simple and as adaptable as possible, so you can enjoy a varied and tasty diet. If you don't like chickpeas, or don't have a can to hand, you could use green beans (1 portion = 15 beans) or even grated raw carrot. For an extra bit of crunch, you could roughly chop a small handful of walnuts and sprinkle on top.
If you don't want to eat chicken, this would work well with falafel (you could try houmous instead of pesto), halloumi, prawns or salmon.
I like this recipe because it's such a quick and easy option. Coming into summer it's nice to have something lighter. In addition, you're getting in one of your 5 a day. It's important to try and get a varied and balanced diet even when following a Low FODMAP diet. Although you need to be careful around the amount of chickpeas to have (recommended portion to remain low FODMAP is 42g), they are a source of fibre and protein as well as several other vitamins and minerals.
Recipe
Difficulty Rating: Easy
Prep Time: 30 minutes (the longest part is cooking the chicken breast so if you have leftover chicken from yesterday's dinner then this will only take 10 minutes)
The serving sizes below are for one person, so you can scale up depending on how many people you're feeding!
Ingredients:
1 chicken breast
Fresh spinach leaves – I used 2 cups
One pepper – I used half a yellow pepper and half a red pepper, roughly chopped
Quarter cup of drained canned chickpeas
Pesto – I used red pesto but green pesto would be just as tasty. Check out this FODMAP Friday blog for a handy Low FODMAP tip about pesto
Parmesan cheese – I grated a light sprinkling on top
Low FODMAP Tip – Canned chickpeas are lower in FODMAPs than dried chickpeas because the FODMAP content (GOS – Galacto-Oligosaccharide) leaches into the water. That's why it's really important to rinse your canned chickpeas as thoroughly as possible.
Method:
Start cooking the chicken
I recommend wrapping the whole chicken breast in tinfoil/ aluminium foil with some olive oil and seasonings and baking in the oven at 400 F/ 200 C – this frees you up to prepare the rest of the salad. The chicken breast is cooked when the inside temperature is 165 F/ 74 C – this should take about 25 minutes in the oven.
Prepare the chickpeas
Rinse the drained chickpeas thoroughly under running water. Place them in a pot, cover with water and heat for five minutes. Once they're heated through, drain them.
Assemble your salad
Place the spinach leaves in a bowl/ on your plate
Add your chopped peppers
Add the cooked and drained chickpeas
Add your chicken breast – I chopped mine into bite size pieces but you can leave the breast whole if you prefer
Spoon some pesto on top
Grate some parmesan cheese
You can add a little bit of black pepper to taste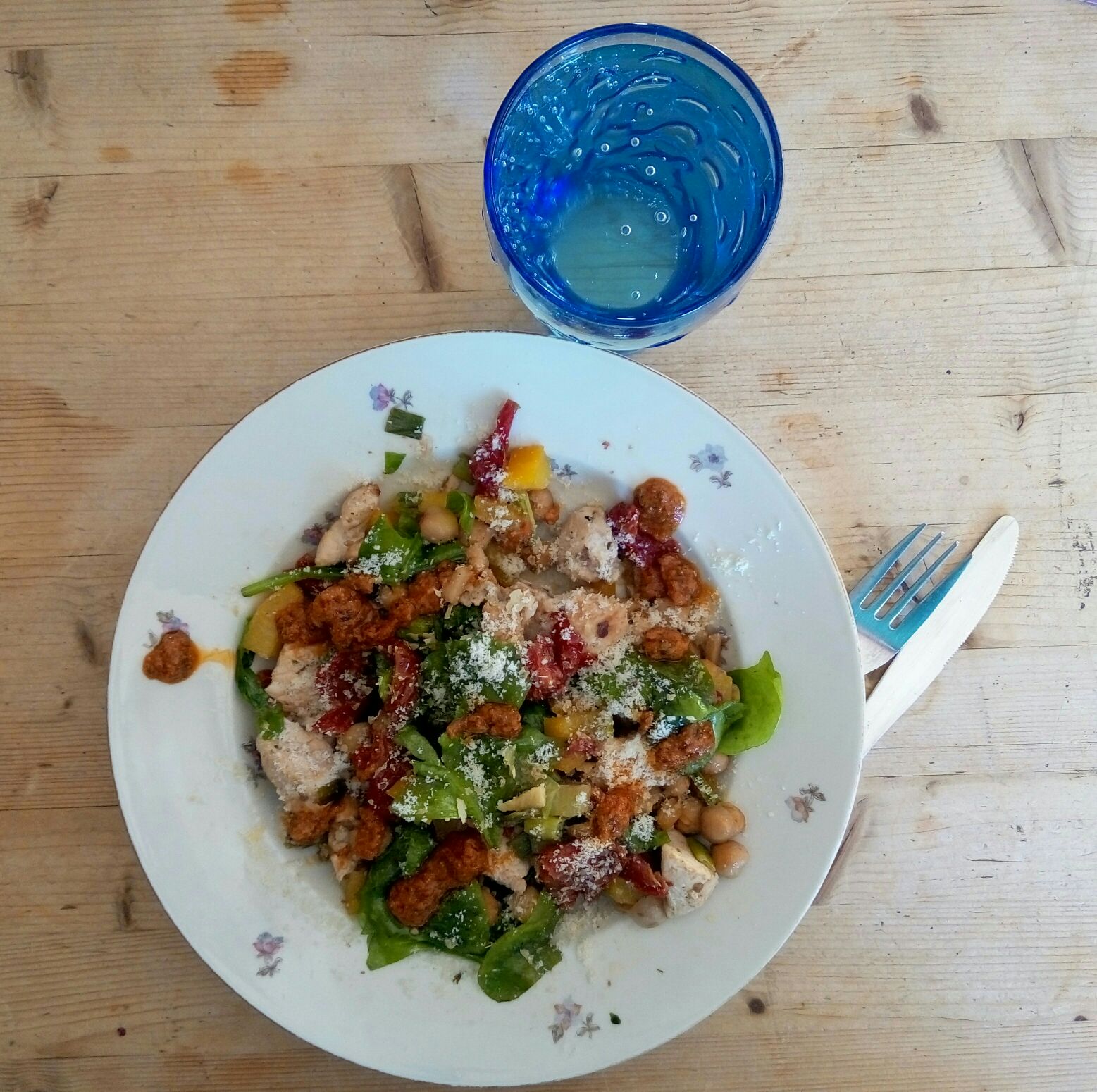 And there you have it – a simple yet very tasty chicken and chickpea salad! I hope you enjoy it!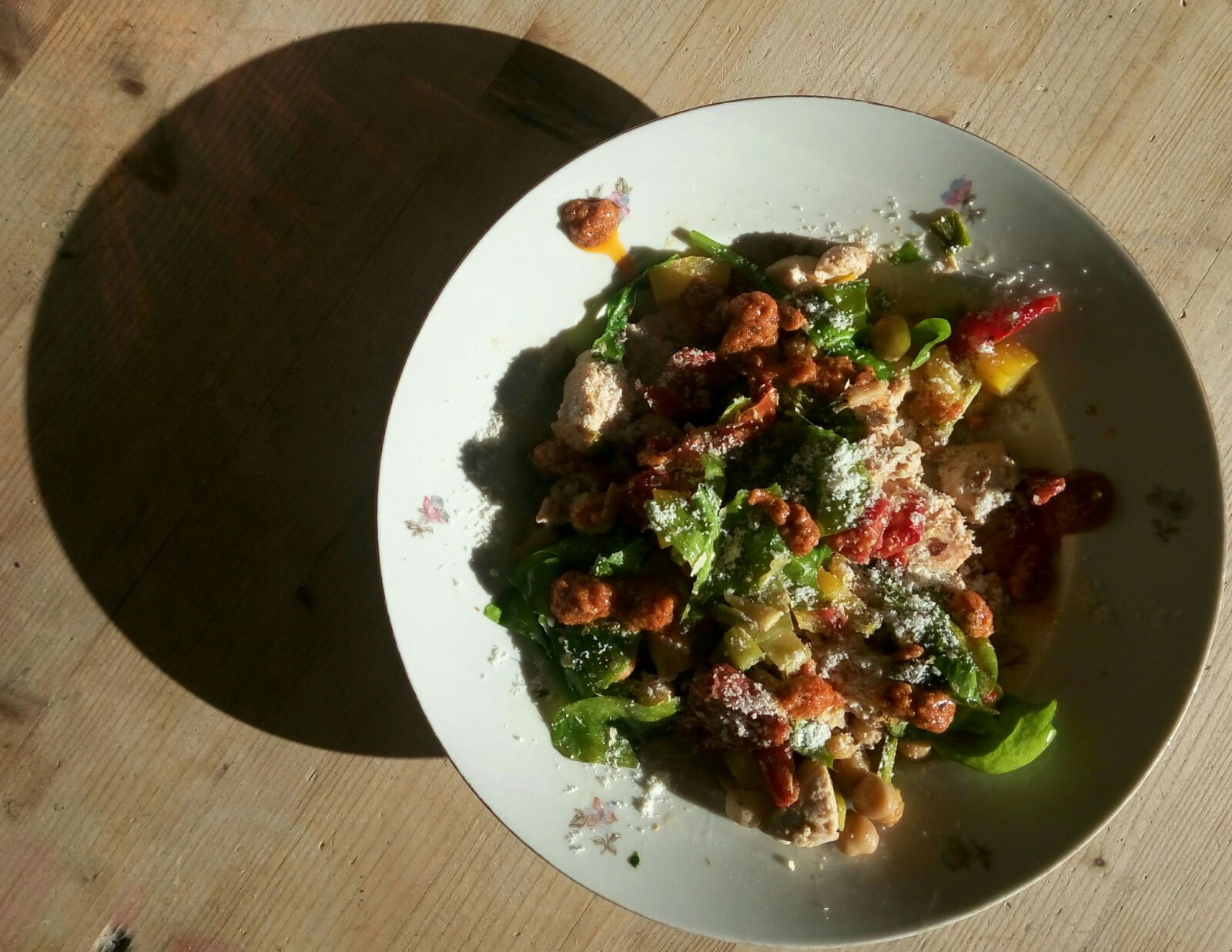 FoodMarble is a pocket-sized breath analysis device. It helps people with chronic digestive issues determine the foods that work best with their digestive system. To learn more about FoodMarble, visit www.foodmarble.com.