If you suffer with digestive issues like IBS, you might find that all of your mealtimes become constricted in some way. However one of the meals that you can easily be adventurous with, regardless of IBS, is breakfast (or brunch!). A lot of this has to do with the humble egg. Whether poached, scrambled or fried, eggs are a staple of breakfasts everywhere, and low FODMAP friendly!
In this recipe we celebrate the egg by making some delicious low FODMAP friendly French Toast, but we take it up a notch by stuffing the inside to create an oozy pocket of goodness.
The low FODMAP aspect is achieved by watching the portions of our ingredients. Strawberries are considered low FODMAP for a serving of up to 10 strawberries; each portion of our French toast will have two strawberries. Dark chocolate has lower lactose content than milk, but we must still be cautious of our serving size. It is considered low FODMAP up to 30g – we use a tablespoon of dark chocolate chips here. Finally, the bread is an important choice; by choosing sourdough, we avoid any high FODMAP worries.
So the next time you are entertaining friends for breakfast or brunch, or simply feel like treating yourself, this is the decadent option, with no FODMAP worries!
Recipe
Difficulty Rating: Easy
Prep/ Cooking Time: 10-15 mins
Serves: 1
Ingredients (per serving)
1-inch thick slice of sourdough bread
1 egg
2 strawberries
1 tablespoon of dark chocolate chips
Maple syrup, icing sugar (optional)
Method
Take a small sharp knife and carefully cut a pocket in the side of your slice of sourdough.
Carefully expand the pocket, without compromising the slice of bread.
Slice your strawberries to about ½ cm slices.
Slide these into your carved pocket, slightly overlapping the end.
Tumble your chocolate chips in and push them in around the strawberry slices.
Beat the egg in a wide bowl, and dip each side of the bread, ensuring the bread soaks up as much egg as possible.
Heat a teaspoon of oil on a pan, on medium high heat.
Once shimmering, add your bread to the pan and fry the eggy bread.
Leave for approximately 5 minutes and lift slightly with a fish slice to check the bottom is appropriately browned.
Flip the slice and cook on the other side.
Serve on a plate with a drizzle of maple syrup and sieved icing sugar (optional), making sure to cut in half to admire the cross section of your creation!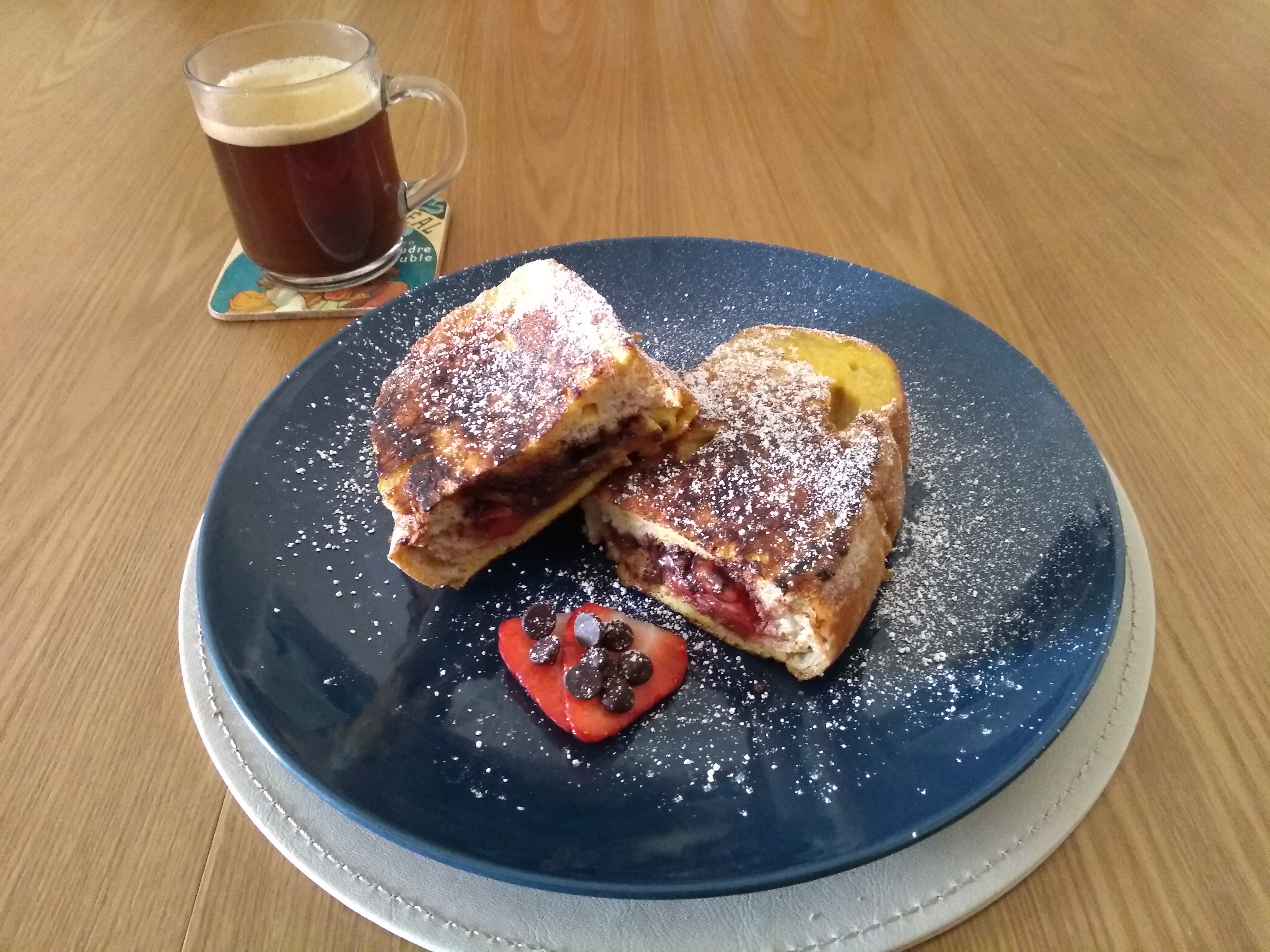 FoodMarble AIRE is the world's first personal hydrogen breath tester. It is a pocket-sized breath analysis device. It helps people with chronic digestive issues determine the foods that work best with their digestive system. To learn more about AIRE, visit www.foodmarble.com