Lunch is a key meal in the day. It's what keeps you going through the afternoon to the end of the day, especially during busy work days. Putting effort into preparing a nice lunch for yourself can be highly rewarding, and can help you save money as well! If you have a sensitive gut, or are following the Low FODMAP diet, it also means you can ensure you're not unwittingly eating any food triggers.
However, what if you are short on time and don't have time to prepare a full meal to bring with you? Well have no fear, this quick recipe will take no longer than 15 minutes to prepare the night before and requires nothing but hot water to heat up at work. This Thai based noodle soup is rich and delicious while also being IBS friendly. Don't like the toppings we have here? Simply use the soup and noodle base and customize it.
In terms of FODMAP content, the soup paste avoids inulin-rich garlic, but in terms of flavour it packs a lot in! As in previous recipes I've used chicken stock cubes. The FODMAP content of these can vary, but colleagues in the office have found this brand works quite well. We also have a recipe for making your own stock here, if you're interested! Creamed coconut is a great way to add coconut flavour into this Asian soup, and 50g of coconut is considered a low FODMAP serving. The vegetables are all at low FODMAP portion sizes, and I've also provided some alternatives.
So, forget those store-bought instant noodle pots, grab your most hipster mason jar and make your workmates jealous!
Recipe
Difficulty Rating: Easy
Prep/ Cooking Time: Approx. 20 minutes total – 15 minutes prep the night before, plus however long it takes to boil some water in work the next day!
Serves: Makes two jars, so can serve one person for two days or two people for one day!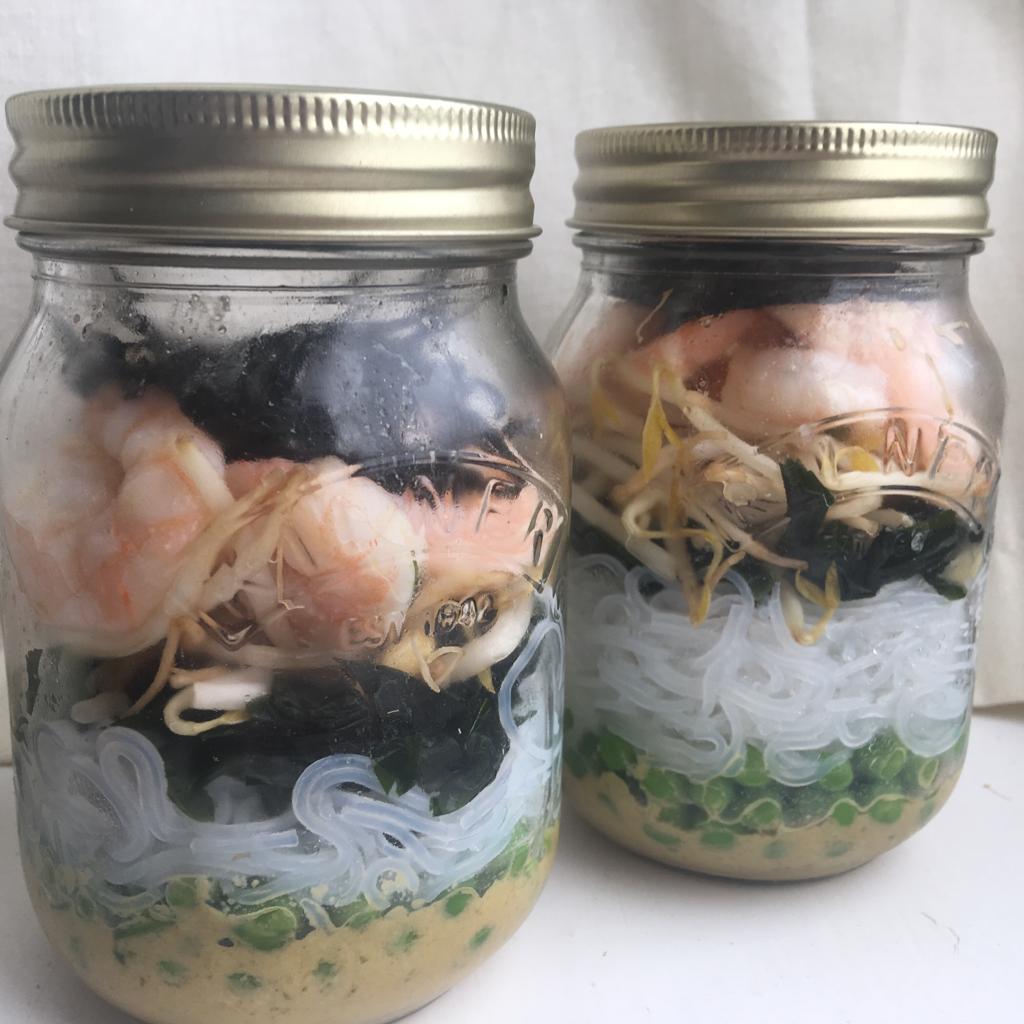 Ingredients
For the soup paste
1 chicken stock cube (or vegetable stock for vegetarians)
1 lemongrass stalk
1 teaspoon ground ginger
1 teaspoon of light brown sugar
3 basil leaves
½ x50g sachet of creamed coconut
Zest of 1 lime
A few drops of Tabasco sauce (optional if you want a kick!)
For the toppings
1 nest of dried, low FODMAP noodles of choice (rice or buckwheat).
15g frozen peas (up to 15g is low FODMAP). Low FODMAP Tip: If you want to use more vegetables, you could use grated carrot, which contains no detectable FODMAPs, or up to 75g chopped green beans instead.
Small handful of bean sprouts.
60g of cooked prawns (or tofu to make this recipe vegetarian).
1 teaspoon/ 10g dried wakame (a type of dried seaweed). Low FODMAP Tip: 2 teaspoons/ 10g of wakame contains moderate amounts of mannitol (a polyol). You could also use nori instead.
200ml of hot water.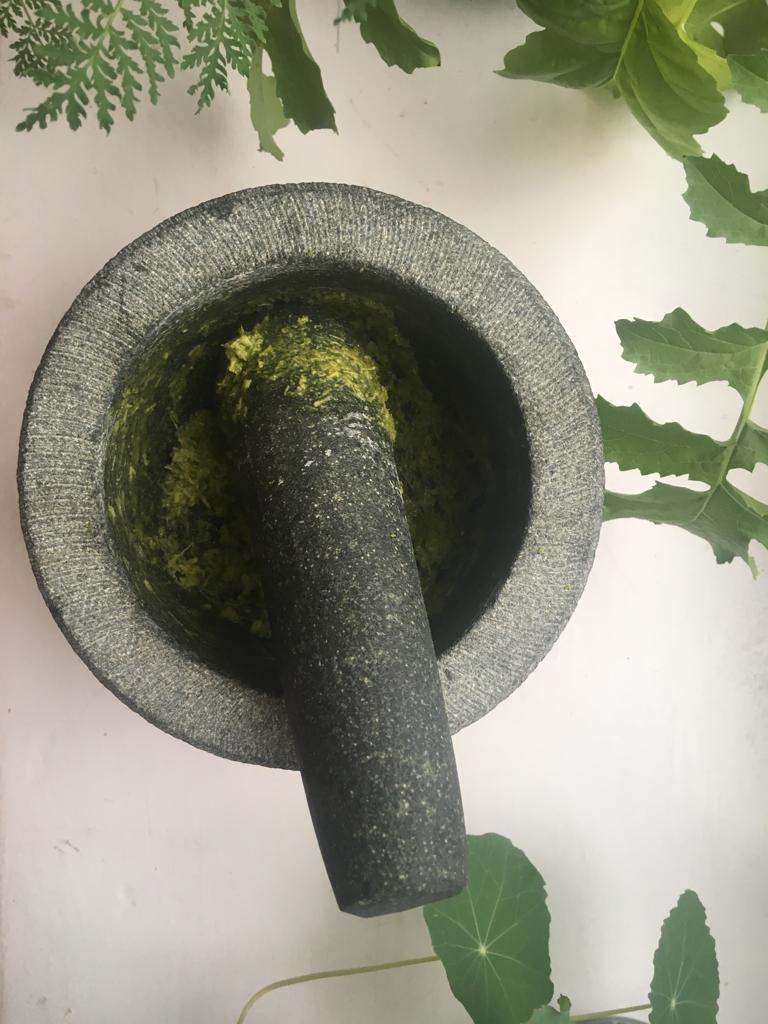 Method
Start by making the soup base paste. Chop off the top and tail of the lemongrass. Slice it down the middle lengthwise and finely chop.
Add this, the broken-up stock cube, ground ginger, sugar and basil leaves to a mortar and pestle and grind into a paste.
Add this to a small pot along with the creamed coconut and Tabasco. Pour in 1cm of hot water to the bottom of the pot and gently heat to dissolve the coconut.
Allow to thicken by heating and add this to the bottom of your mason jar.
Cook noodles according to the instructions on the pack, run under cold water in a colander, and allow to cool and drain.
Add these to the mason jar.
Rehydrate your wakame in water for 5 minutes and squeeze out the excess water.
Add the wakame, frozen peas, bean sprouts, and prawns in layers on top of the noodles, top with the coriander.
Store this in the fridge over-night.
At work the next day topple the contents into a bowl leaving the paste in the bottom of the jar.
Add approximately 200ml (half fill the jar) of hot water to the jar and shake to dilute the paste.
Pour over the contents in the bowl and enjoy.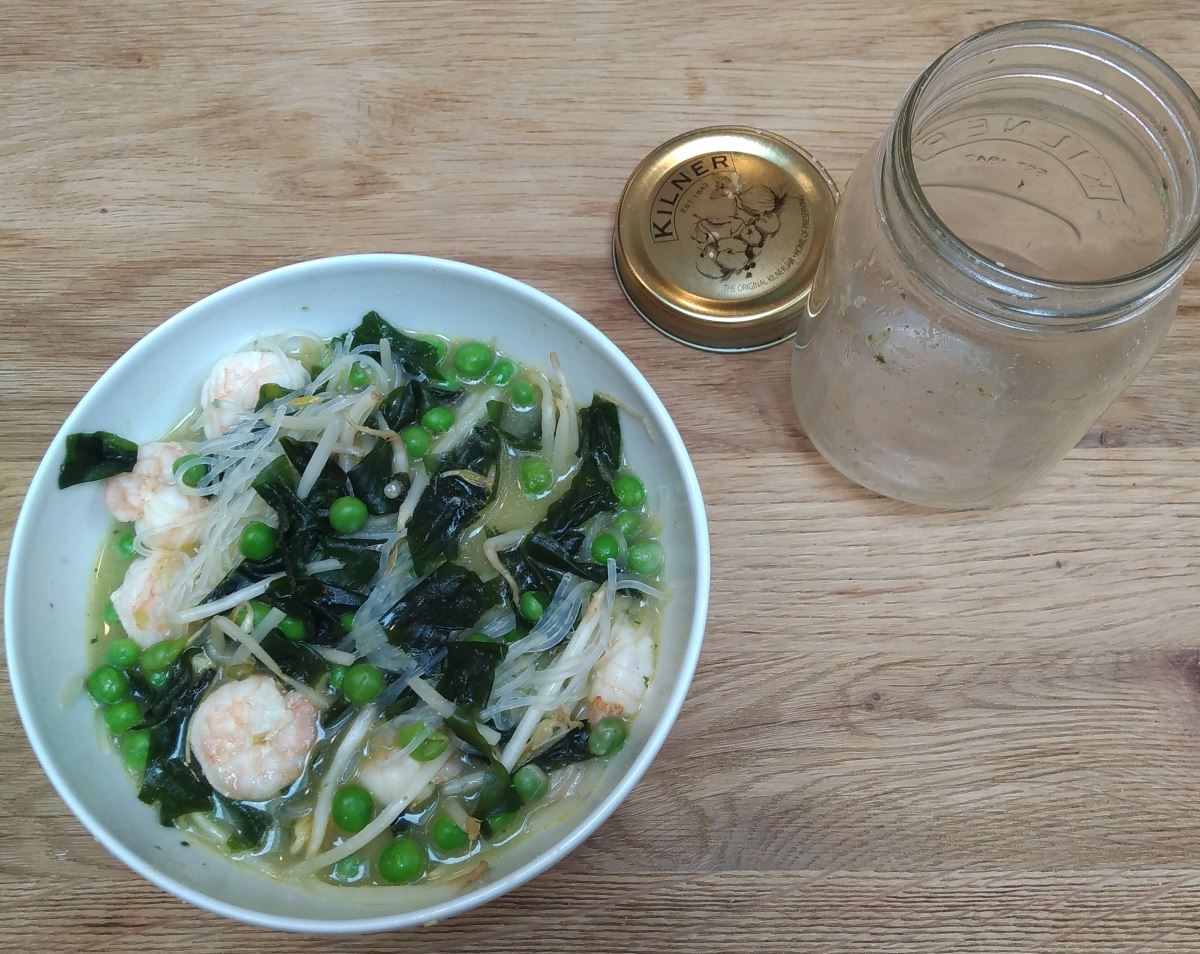 FoodMarble AIRE is the world's first personal hydrogen breath tester. It is a pocket-sized breath analysis device. It helps people with chronic digestive issues determine the foods that work best with their digestive system. To learn more about FoodMarble, visit foodmarble.com