This recipe differs from traditional aubergine parmigiana as I have included red peppers to reduce the FODMAP content (75 grams of aubergine is low FODMAP). We have also added this recipe to the FoodMarble app database to make it super easy for you to log!
Serves: 6
Difficulty: Easy
Preparation and cooking time: 2 hours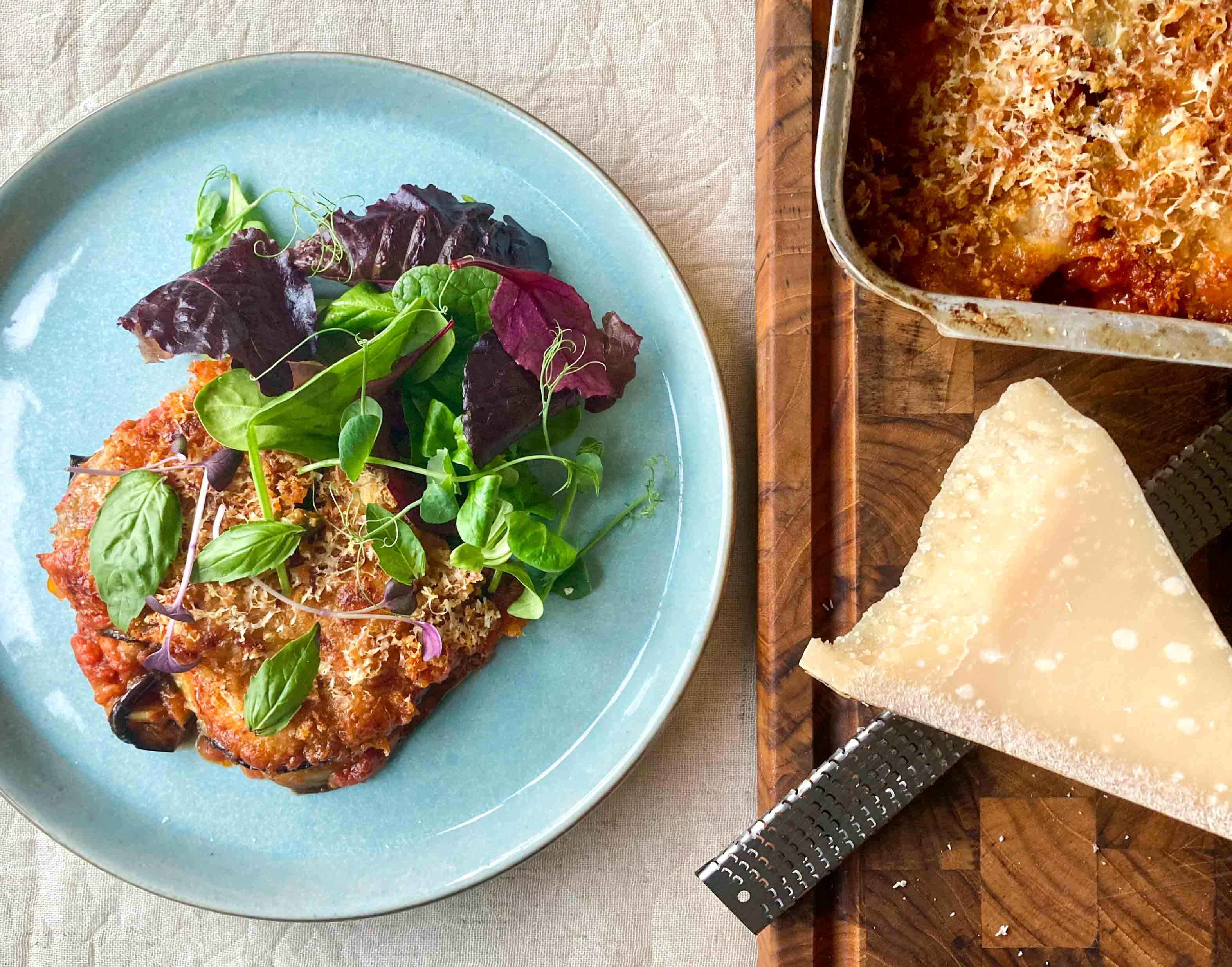 Ingredients
450 grams aubergine, cut lengthways into 5 millimetre slices
450 grams red pepper
800 grams tinned tomatoes
200 grams mozzarella, thinly sliced
125 grams of parmesan, grated
1 small bunch of basil, leaves removed and stacks chopped
50 grams sourdough or gluten free breadcrumbs
2 tablespoons of olive oil, plus extra for frying the aubergine and roasting the peppers
Zest of 1 lemon
2 teaspoons of capers
3 anchovies, chopped (optional)
Small pinch of dried chilli flakes (optional)
Preparation
Preheat the oven to 180C
For the peppers
Coat the red peppers in olive oil and roast on a baking tray in a preheated oven for 30-40 minutes or until just soft. Remove from the oven and immediately cover in cling film (this makes them easier to peel). Once cooled, deseed and peel the peppers.
For the Sauce
Heat the olive oil in a saucepan over a medium heat. Add the chopped basil stalks, anchovies and chilli flakes. Fry for about a minute and then add the chopped tomatoes. Season with salt and simmer over a medium low heat for about 45 minutes until rich and thickened.
For the Aubergine
Heat a frying pan over a medium high heat and fry the aubergine in batches in olive oil until slightly golden. This will only take 2-3 minutes for each side. If you would like to reduce the amount of oil in the recipe you can blanch half the aubergine slices in boiling salted water. When cooked put the aubergine on kitchen paper to drain.
For the breadcrumbs
Mix the breadcrumbs with the lemon zest, a small amount of the parmesan and some olive oil.
To assemble
In an oven proof dish or baking tin spread a layer of the tomato sauce, followed by a layer of aubergine and peppers. Layer some of the mozzarella and parmesan on top of this. Repeat this layering until everything is used up. Top with the breadcrumbs and any left over parmesan. Bake for approximately 30 minutes until golden brown and bubbling. Leave to cool a little before serving with the basil leaves and a green salad.
FoodMarble AIRE is the world's first personal hydrogen breath tester. It is a pocket-sized breath analysis device. It helps people with chronic digestive issues determine the foods that work best with their digestive system.
Read user reviews of FoodMarble AIRE on Trustpilot 
To learn more about FoodMarble, visit foodmarble.com or follow us on our social media channels