Chicken katsu is a Japanese delight that is now permeating western culture, with rocketing popularity in cities like Los Angeles. Normally full of IBS trigger foods, I'm sharing this recipe with appropriate substitutes that will allow everyone enjoy this fantastic sandwich.
The holy trinity for making a katsu chicken fillet is flour, eggs and panko bread crumbs. Plain white wheat flour is high FODMAP and similarly with panko breadcrumbs. There are many low FODMAP flour alternatives, but be careful of chickpea or almond flour for example, as these can contain other FODMAPs. I recommend rice or quinoa flour to ensure low FODMAP content. When it comes to the panko breadcrumbs you will have to make your own. The common low-gluten substitute to these breadcrumbs is to use cornflakes that have been blitzed in a blender. However, what I'm going to do in this recipe is show you how to make your own breadcrumbs out of sourdough bread – which is handy because you're going to use the sourdough loaf for the sandwich!
Commonly this sandwich is served with a crunchy cabbage salad, however green cabbage contains sorbitol which could be a trigger for certain IBS sufferers. I've replaced this with a fresh carrot salad to provide a similar crunch while maintaining the Asian flavor.
Recipe
Difficulty: Medium
Preparation/ Cooking Time: 40 – 50 minutes
Serves: 2
Ingredients:
A loaf of sourdough bread
2 chicken breasts (this recipe also works with de-boned and skinned thighs)
Approximately 2 cups rice/ quinoa flour
1-2 eggs
2 teaspoons cayenne pepper (optional)
2 carrots
1 tablespoon soy sauce
1 tablespoon rice wine vinegar
1 teaspoon sesame oil
Tabasco (optional)
Method:
To make the sourdough breadcrumbs take half your loaf and cut it into ½ inch cubes and bake in a 150°C oven for ten minutes. Allow these to cool and blitz in a blender. Season with salt and pepper.

Line a baking tray with tin foil and oil the foil.

 Take your chicken breasts and wrap them loosely in cling film. With a rolling pin smash them out into a uniform ½ inch thickness.

Put the flour, beaten egg, and sourdough breadcrumbs in separate bowls. Make sure the bowls are big enough for the flattened chicken breasts to fit into. Add the cayenne pepper to the breadcrumbs if you want some heat in the sandwich.

Individually dip each flattened chicken breast in flour, ensuring all crevices get coated and shake off the excess. Then dip the breast into the beaten egg and lastly in the breadcrumbs. Ensure an even coating.

Lay the breaded chicken breasts on the lined baking tray and bake in a 200°C oven for 30 minutes.

To make the carrot salad, first grate or cut the carrots into matchsticks.

Mix the soy sauce, rice wine vinegar and sesame oil. Pour this over the carrots and toss well.

Assemble your sandwich with the sourdough bread, a little bit of  mayonnaise, followed by a chicken fillet, Tabasco (optional), and topped with the carrot salad.

Enjoy!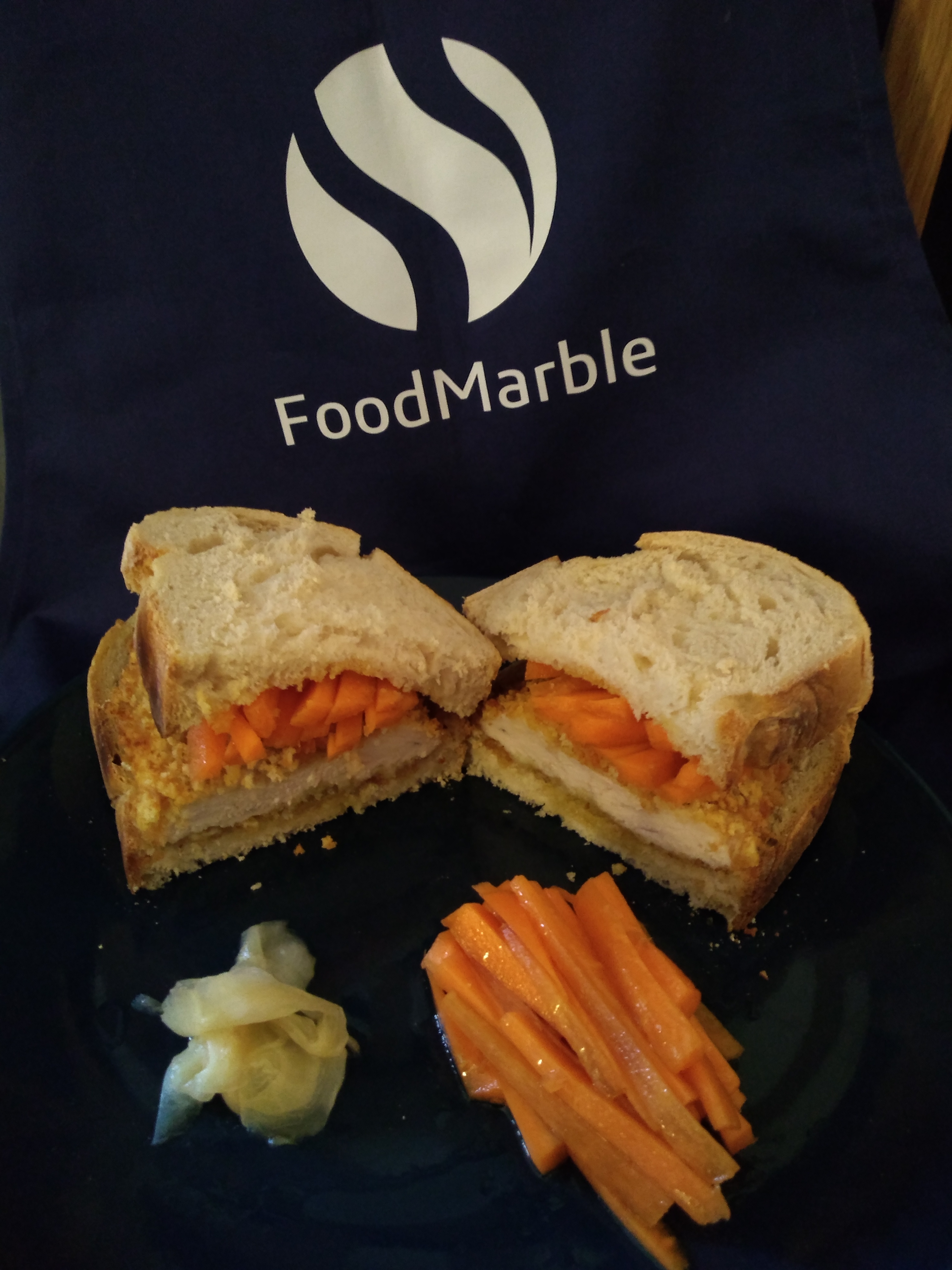 FoodMarble is a pocket-sized breath analysis device. It helps people with chronic digestive issues determine the foods that work best with their digestive system. To learn more about FoodMarble, visit www.foodmarble.com.