Protein, rice and veggies is a staple meal in most households, and it's no different at FoodMarble! There are endless variations and combinations you can come up with, but if you have a sensitive gut or food intolerances, it can be a little harder to come up with new ideas. This recipe is great because you can swap out the ground turkey for any kind of meat you prefer, and use whatever kind of vegetables you like and can tolerate, e.g. roast parsnips and carrots would go well too! Frying up some slices of pineapple and adding them to the rice is a really great way to add flavour without adding to the FODMAP load. I also like to keep some Tabasco sauce on hand to spice up my dinners when I feel like it needs a little kick!
Low FODMAP Tip – Meat and rice have no detectable FODMAPs. Green beans are low FODMAP up to 75g or about 15 beans, pineapple is low FODMAP up to 150g and sweet potato is low FODMAP up to 75g. So the amounts used in this recipe, when shared between 4 people, should be well tolerated by sensitive guts!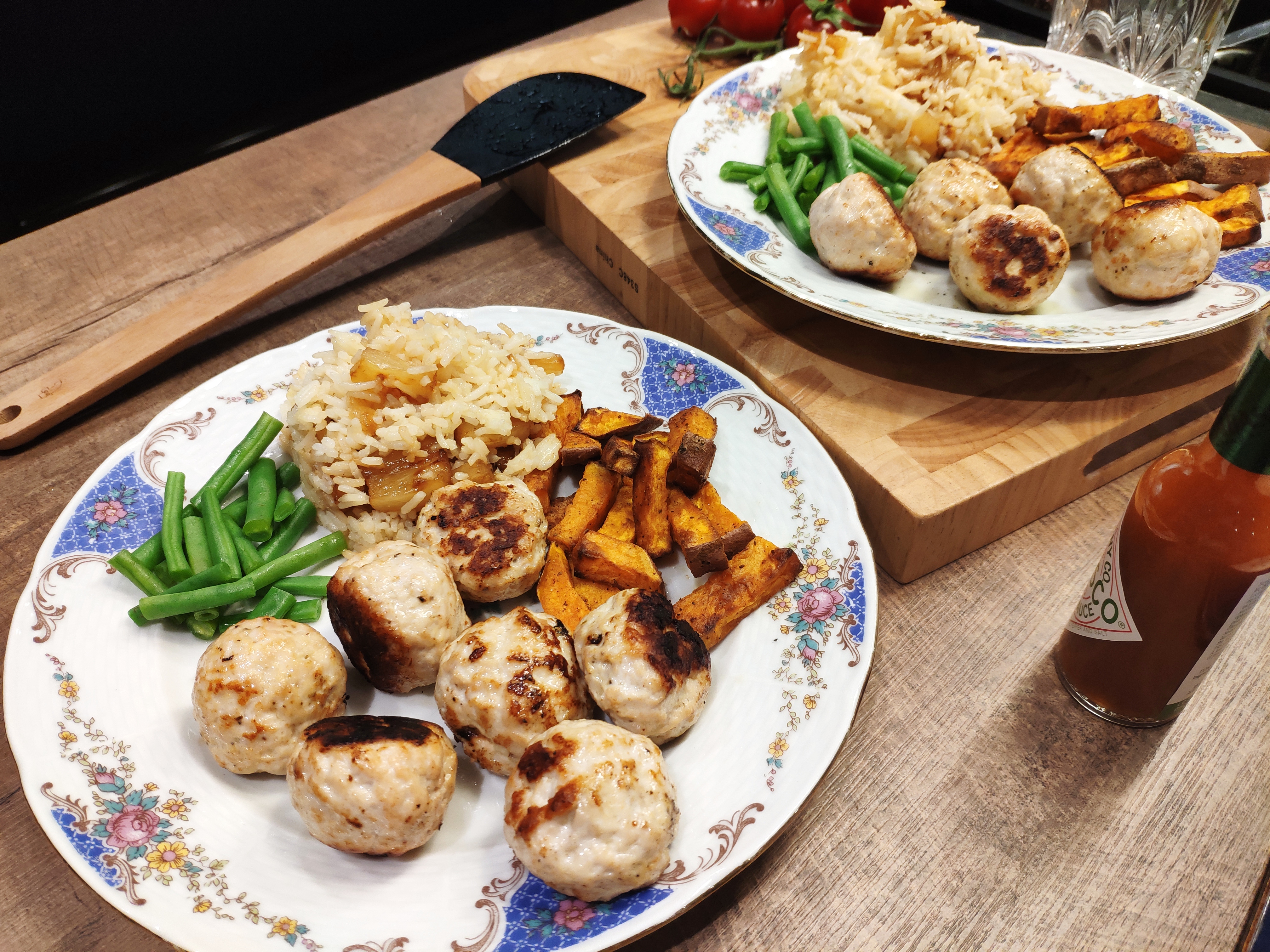 Recipe
Difficulty Rating: Easy
Prep/ Cooking Time: 30 minutes
Serves: 4 people
Ingredients
400g ground turkey (or whatever type of ground meat you prefer)
250g green beans, chopped into bitesize pieces
1 medium sweet potato (approx. 130g)
300g Basmati rice (75g per person)
4 pineapple slices
1 teaspoon Dijon mustard
1 teaspoon smoked paprika
Salt and pepper for seasoning to taste
Olive oil for frying and roasting
Method
Wash and peel the sweet potato and chop into cubes. Spread on a roasting dish, season with salt and toss with olive oil. Put in the oven at 180 degrees and roast for approx. 20 minutes until the sweet potato is cooked through.
Start cooking the rice. It's a good idea to wash your rice before cooking to remove some of the starchiness. Put the rice in a saucepan and add 600ml water and some salt. Bring to the boil and then simmer for 10 minutes covered.
Put the ground turkey into a bowl and add the Dijon mustard, paprika and some salt. Mix up with your hands to combine everything and then form into little meatballs. Try make the meatballs small and uniform in size so they're easy to cook through on the frying pan.
Fry the meatballs with some olive oil in a frying pan. If you want, you can fry the outside of the meatballs to brown them, and then finish cooking in the oven.
Fry the pineapple slices with some olive oil. Once cooked, chop into bitesize pieces.
Cook the green beans – I like to put them in a bowl, cover with water and microwave on high for 2-3 minutes. This cooks them quickly and leaves them with a little bite. You can also boil them in a saucepan if you prefer.
Combine the cooked rice and fried pineapple. Season with salt and pepper to taste. If you like things spicy you could add some pepper flakes or Tabasco sauce to the rice!
That's it! You're ready to plate it all up and enjoy.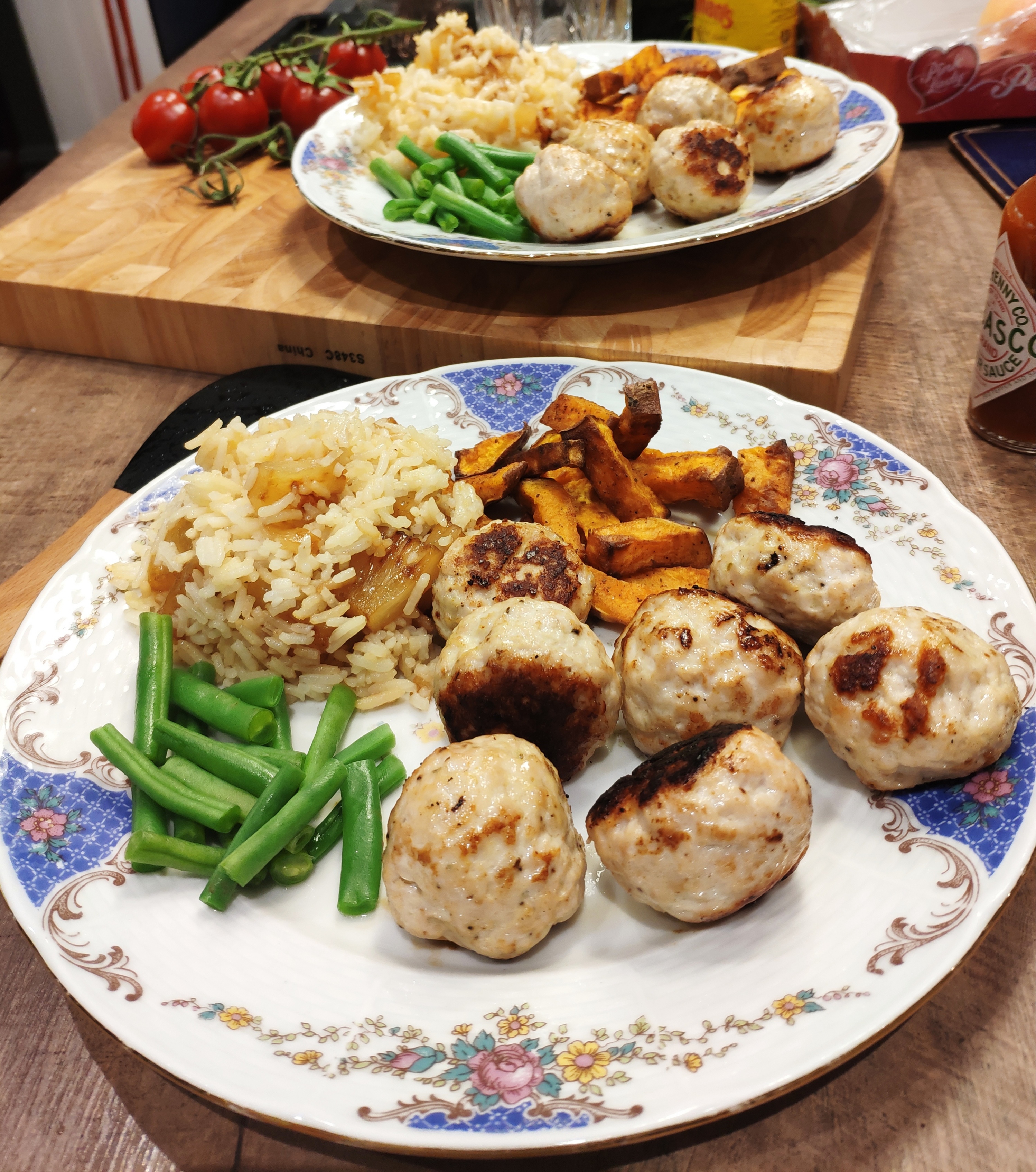 FoodMarble AIRE is the world's first personal hydrogen breath tester. It is a pocket-sized breath analysis device. It helps people with chronic digestive issues determine the foods that work best with their digestive system. To learn more about AIRE, visit www.foodmarble.com