These sweet and buttery cookies use gluten-free flour and oats, so will be suitable for those on a gluten-free diet. The other ingredients are Low FODMAP so these should be a winner for everyone!
Anzac Cookies get their name as they have long been associated with the Australian and New Zealand Army Corps established in World War I.
Some Low FODMAP tips before we get into the recipe:
Flaked coconut contains sorbitol. 40g is a low FODMAP portion so feel free to eat 2-3 cookies!
We like to use gluten-free pinhead oats instead of rolled oats, but rolled oats work well too.
You can switch golden syrup for maple syrup if you are very sensitive to GOS.
Recipe
Difficulty Rating: Easy
Prep/ Cooking Time: 35 minutes
Serves: Makes 16 cookies, and 2-3 cookies should suit most people
Utensils
Saucepan
Mixing bowl
Baking tray
Baking paper
Teaspoon
Tablespoon
Mixing spoon
Ingredients
85g pinhead oats
85g flaked coconut
100g gluten-free all-purpose flour
100g caster sugar
100g butter
1 teaspoon of bicarbonate of soda
1 tablespoon of golden syrup or maple syrup
2 tablespoons of boiling water
Method
Preheat the oven to 180°C (fan oven)/360 ˚F.
Place the oats, coconut, flour and sugar in the mixing bowl.
Melt the butter over a medium heat and add the syrup (golden or maple syrup).
Carefully mix the bicarbonate of soda to 2 tablespoons of boiling water.
Add this mixture to the butter and golden syrup. It will start to bubble slightly.
Carefully incorporate this to the dry ingredients, stirring gently.
Using your hands, you can make small even sized balls with the mixture.
Place on the baking paper, evenly spaced (allowing room for spreading).
Bake in the oven for 10-12 minutes until golden.
Allow to cool on a wire tray.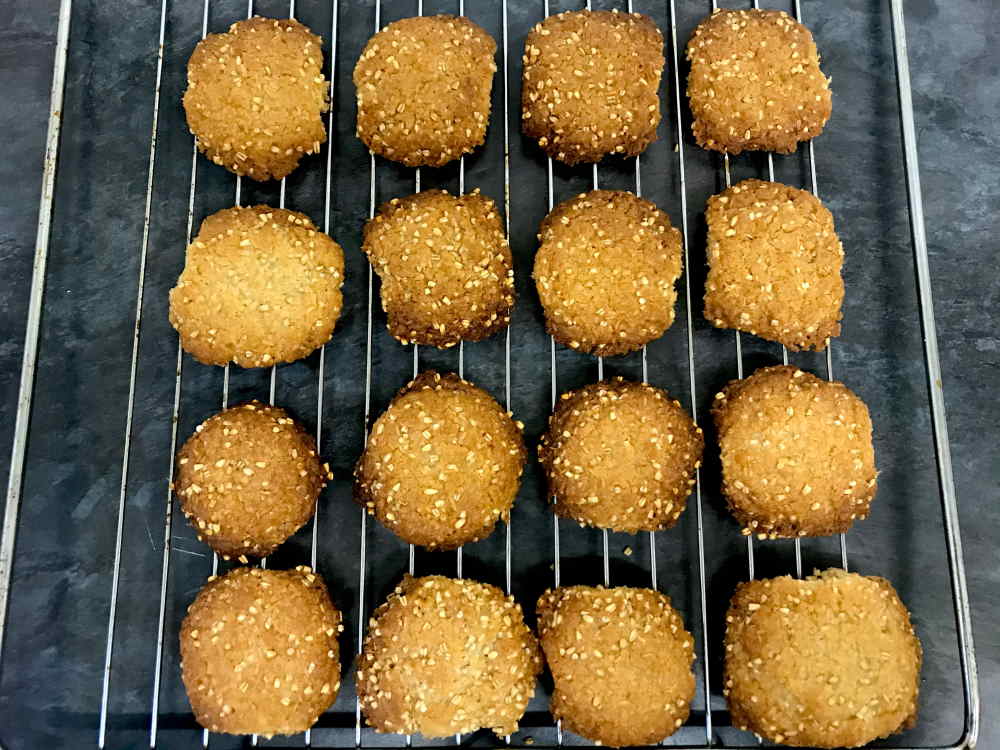 FoodMarble AIRE is the world's first personal hydrogen breath tester. It is a pocket-sized breath analysis device. It helps people with chronic digestive issues determine the foods that work best with their digestive system.
Read user reviews of FoodMarble AIRE on Trustpilot 
To learn more about FoodMarble, visit foodmarble.com or follow us on our social media channels