Coming into colder weather, it's nice to have a quick and filling recipe to hand. This roasted carrot risotto made using the Instant Pot ticks a lot of boxes – it's low FODMAP, vegetarian, gluten free, low lactose and very versatile. You could use any vegetables that suit you, including leftovers from yesterday's roast. Once the risotto has cooked you could stir through spinach leaves to add some green colour, or top with the green parts of spring onions for extra flavour and texture. If you like cheese you could top with crumbled feta or shavings of parmesan (both great lower lactose alternative to cheddar cheese) or a little goat's cheese before serving. Wine gives this recipe a real depth of flavour, but as you know alcohol can be an irritant to your gut. If you find you are sensitive to wine simply make the recipe without it. I did and found it was just as tasty!
We've used a vegetable broth in this recipe. Check out our homemade vegetable broth here. Shop bought broths often have a lot of ingredients including FODMAP containing ingredients. It's better to play it safe and make your own. I like to make mine in large batches and freeze it.
Traditional stove-top risotto is time consuming and needs a lot of attention, so I love the Instant Pot because it produces a perfect, delicious risotto every time – completely hands off! If you don't have a pressure cooker, or want to make this on the stove-top, double the amount of broth in the recipe and make sure you add the liquid one cup at a time, and continuously stir until the rice has absorbed all the liquid.
Recipe
Difficulty Rating: Easy
Prep/ Cooking Time: 40 minutes
Serves: 4. Leftover risotto will keep in the fridge for 2-3 days
Ingredients
2 cups risotto rice
4 cups vegetable broth (make sure to keep this hot)
1.5 cups parmesan cheese
10 – 12 small – medium carrots
Half cup dry white wine
Olive oil for frying. You can use butter or garlic flavoured oil in the Instant Pot if you'd prefer
Salt and pepper for seasoning
Method
Start by preparing the carrots. I save time by not peeling them – I just wash them, give them a scrub if needed, and trim the tops and tails
Slice 8 carrots in half lengthwise and again down the middle. Place these into a roasting tin, sprinkle with some olive oil and some salt. Place in the oven at 200 C and roast for approximately 30-40 minutes. Make sure to do this about 10 minutes before you begin the Instant Pot risotto process, to make sure these carrots are fully roasted by the time your risotto is ready to serve
Chop the remainder of the carrots into small rounds
Set the Instant Pot to "Sauté", on high. Add some olive oil to cover the bottom of the Pot
Place the carrot rounds into the Instant Pot with some olive oil and sauté for approximately 5 minutes
Add the risotto rice and toast the rice. Make sure to stir the rice and carrots together to ensure the rice is coated with the oil
When the rice is ready, turn off the sauté function. Add the dry white wine and stir to deglaze the bottom of the pot
Add the broth (for best results make sure the broth is hot when you add it) and stir
Place the lid on the Instant Pot and set to "Manual", on high pressure, for 5 minutes. Turn the steam release handle to "Sealing"
The Instant Pot will take a couple of minutes to come up to pressure. Once at pressure, the 5 minutes will begin to countdown
When the time beeps, turn off the Instant Pot and turn the steam release handle to "Venting" to do a quick pressure release
When the pressure has been released, open the lid and stir the risotto. Make sure the consistency is to your liking – if there is too much liquid or you think the rice is undercooked, you can use the Sauté function to cook further – make sure you stir continuously
Add the parmesan and salt and pepper to taste
Divide the risotto into your serving bowls and top with some of the roasted carrots. Grate some more parmesan and garnish with black pepper to taste. Serve immediately and enjoy!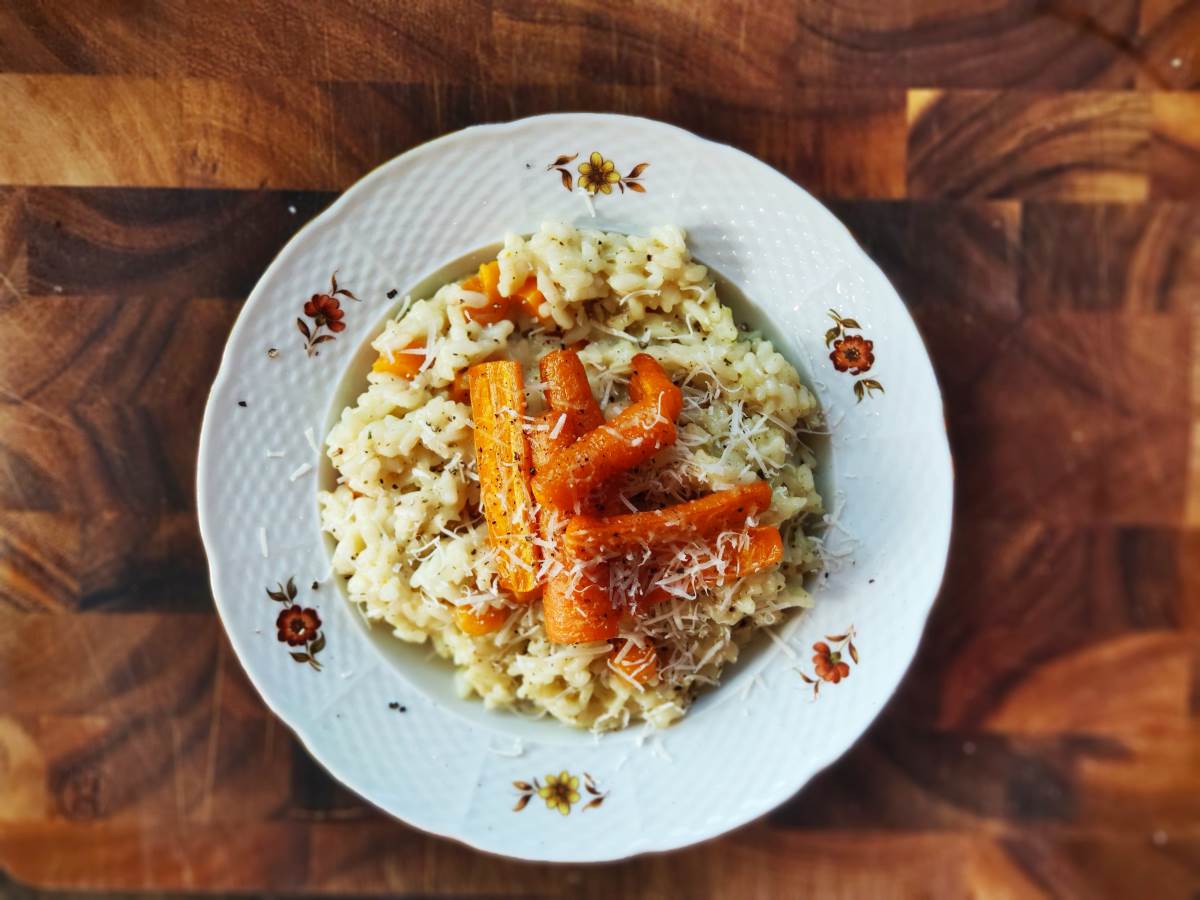 As a bonus, if you happen to have leftovers, you can stuff red peppers or large tomatoes with the risotto, top with some extra cheese and bake for approximately 30 minutes for a next day dinner!
FoodMarble AIRE is the world's first personal hydrogen breath tester. It is a pocket-sized breath analysis device. It helps people with chronic digestive issues determine the foods that work best with their digestive system. To learn more about FoodMarble, visit foodmarble.com