Root vegetables are a great staple to work into your diet, especially during the winter months when they're in season. Potatoes, carrots, sweet potatoes and a variety of other root vegetables are low in FODMAPs and can help fill you up. You can also add grains like rice and quinoa to create a delicious base for your meals.
We decided to combine quinoa, sweet potato and a few other ingredients to make a sweet and salty meal. If you'd like to add some meat, try tossing in some sliced chicken breast!
What are FODMAPs?
FODMAPs are a family of sugars that can pass through the digestive system without being fully absorbed. Bacteria ferment the FODMAPs once they reach the large intestine, which creates gases. In people with a sensitive gut, this gas build-up can lead to digestive symptoms.
Ingredients
Makes 4 servings
Prep time: 20 min.
Cook time: 25min.
Quinoa, 100g (3.5 oz) uncooked
1 sweet potato – Choose a fairly large sweet potato, as you'll be dividing it into four portions. You should aim for about 118 ml (½ a cup) of roasted sweet potato per serving, as larger portions can have moderate FODMAP levels.
2 red bell peppers – Bell peppers don't have any detectable FODMAPs, so you can add more if you prefer.
Spinach, 180 g (6.3 oz) – If you choose to use baby spinach, keep in mind that it can have moderate FODMAP levels in large amounts. However, you can limit your FODMAP levels by keeping your portion size under 75g.
Feta – While some cheese varieties are a no-go because of the amount of lactose they contain, feta has only trace amounts. Crumble about one tablespoon on your salad, but don't eat more than 3 tablespoons in a sitting.
Walnuts (optional) – If you'd like to add a little additional crunch to your meal, you can sprinkle walnuts on top. Walnuts are large, so a little can go a long way. Keep your serving to less than five nuts to avoid excess FODMAPs.
Olive oil
Salt
Pepper
Dressing
Whole grain mustard, ½ tbsp
Lemon, 30 ml (1 oz)
Maple syrup, 1 tbsp
Oil, 118 ml (4 oz)
Salt
Pepper
Directions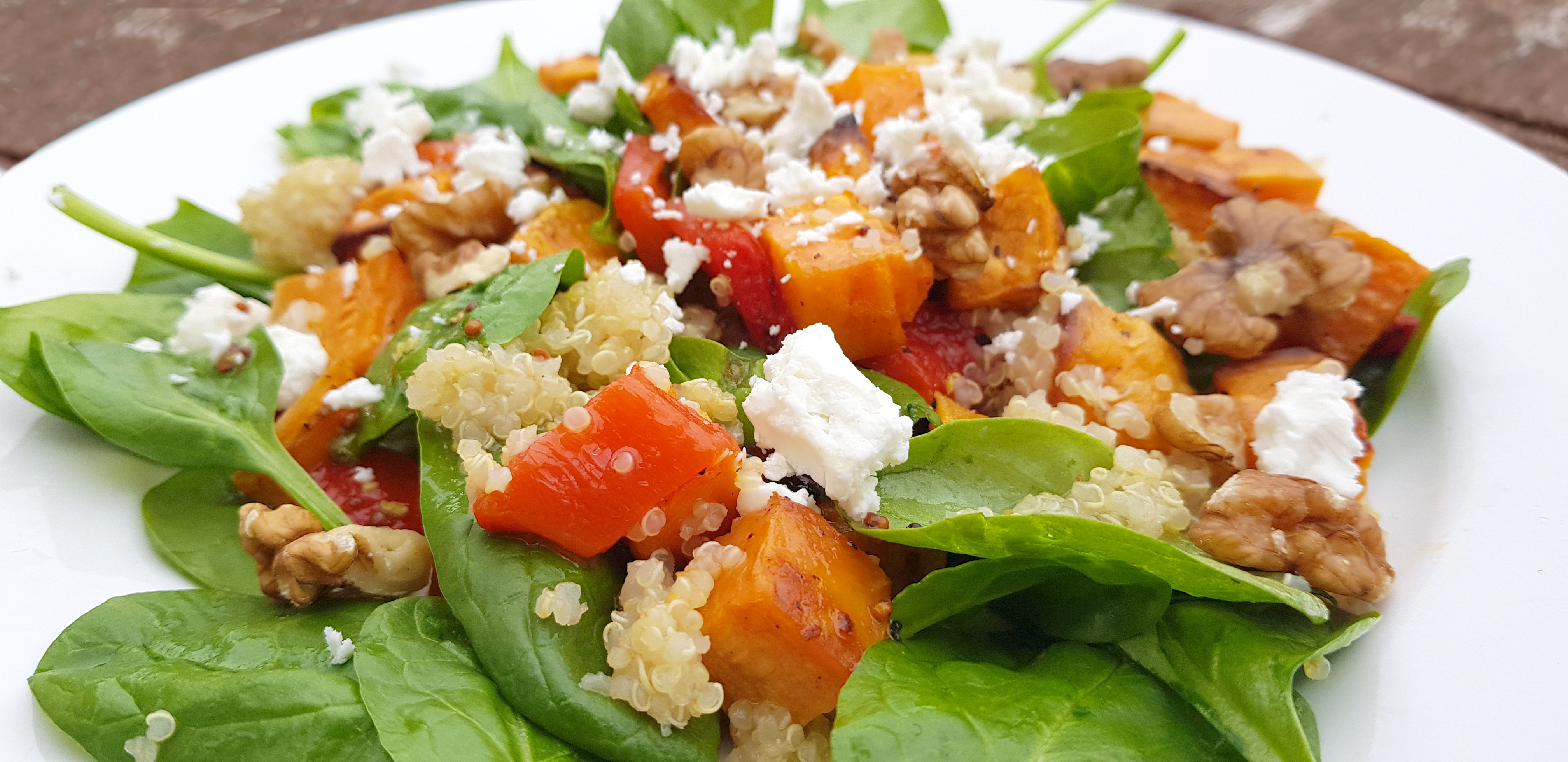 Pre-heat your oven to 220° C (428° F).
Cut your sweet potato into 2.5 cm (1 in) cubes and coat with olive oil. Season with salt and pepper to taste.
Lay your sweet potato cubes in a single layer on a baking sheet.
Slice your red peppers in half from top to bottom. Remove the seeds.
Lay your pepper on a second baking sheet, skin up.
If your trays won't fit together on one row, put the peppers closer to the heat.
Cook for 20-25 minutes, or until pepper skins start to blacken and sweet potato is cooked through. Once cool enough to touch, peel the skin off your roasted peppers and cut into bite-sized pieces.
While your vegetables are roasting, start cooking your quinoa.
Rinse the quinoa in cold water, then follow the cooking directions on the package. This typically involves using two-parts water to one-part quinoa, bringing the mixture to a boil and then simmering for about 20 minutes.
Prepare your dressing by whisking together all your ingredients.
Once your quinoa is ready and has cooled slightly, mix together spinach, quinoa, peppers and sweet potato.
Add dressing and toss to coat.
Divide into servings and top with crumbled feta and walnuts if desired.
Enjoy!
AIRE is a pocket-sized breath analysis device. It helps people with chronic digestive issues determine the foods that work best with their digestive system. To learn more about AIRE, visit www.foodmarble.com.
These recipes are low FODMAP to the best of our knowledge. However, FODMAP testing is an ongoing area, and can sometimes lead to changes in these recommendations.