Salad for lunch might not seem like the most exciting decision, but with a little bit of preparation you can make this tasty salad; full of flavour and texture, you'll never get bored!
Lunch Salad Recipe
Difficulty: Easy
Prep/cooking time: 40 minutes
Serves: 2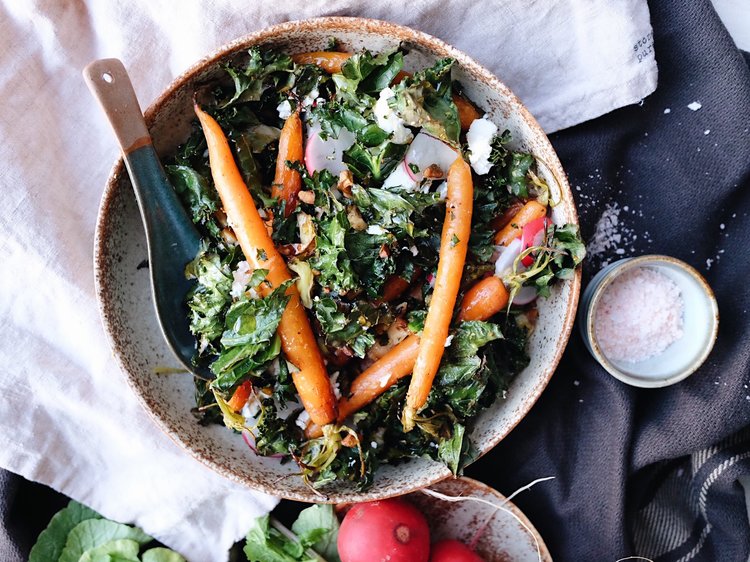 Lunch Salad Ingredients:
200g Dutch/baby carrots (scrubbed with stems trimmed)
150g kale (stems removed and torn into bite-sized pieces)
4 red radish (thinly sliced)
80g soft goat's cheese
40g walnuts (roughly crushed)
1 tsp maple syrup
juice from ½ lemon
5 TBSP olive oil
1 tsp extra virgin olive oil (EVOO)
pinch of salt & pepper
2 slices of gluten-free or sourdough bread
Lunch salad FODMAP content
Method:
Preheat your oven to 200°C.
Toss the carrots with the olive oil, salt and pepper (save a little bit of each for the kale).
Place the carrots in a large baking dish and roast for 15 minutes.
Coat the kale with the remaining olive oil, salt & pepper and add it to the tray with the carrots before roasting for 10 minutes.
Then add the crushed walnuts and roast for a further 5 minutes.
Mix the lemon juice, maple syrup and extra virgin olive oil together. Add a pinch of salt.
Add the sliced radish and goats cheese to the roasted veggies and then drizzle the dressing on top.
Serve immediately with gluten-free or sourdough bread.
FoodMarble AIRE is the world's first personal hydrogen breath tester. It is a pocket-sized breath analysis device. It helps people with chronic digestive issues determine the foods that work best with their digestive system.
Read user reviews of FoodMarble AIRE on Trustpilot 
To learn more about FoodMarble, visit foodmarble.com or follow us on our social media channels