In this recipe I am going to show you a basic, low FODMAP salad using dried wakame, which is an edible seaweed that can be found in most health food shops or Asian markets. I'm going to serve this with a healthy treat – teriyaki popcorn chicken! The various flavors will complement each other wonderfully, along with the textures.
Readers of my previous recipes will be familiar with my low FODMAP method of breading chicken, which involves making your own sourdough breadcrumbs and using rice flour to avoid inulin. With regards to teriyaki sauce, this can be hit and miss for IBS sufferers, depending on the recipe used. Traditionally it is made with honey (or golden syrup) and garlic which can be trigger foods for IBS with their fructose and inulin content respectively. I've adapted this classic teriyaki sauce recipe from BBC Good Food, and left out the garlic clove – it's so tasty you won't miss the garlic! If you don't have enough sugar, or would like the sauce a little sweeter, you could add some maple syrup to the mix! If you really miss the garlic flavor, you can always add some garlic oil as well.
Eat more seaweed!
Seaweed is something we should all try to eat more of, with studies showing that growing it has a positive impact on the environment, as well as it being incredibly nutrient rich.
However, outside the odd sushi wrapping, many of us unfamiliar with seaweed are afraid to introduce it into our regular diets. This is a shame, as it can be a delicious addition to any meal and if we can increase the commercial demand for seaweed, we might do the planet some good!
Recipe
Difficulty Rating: Medium
Prep/ Cooking Time: 30mins
Serves: 2 people
Ingredients
Teriyaki sauce
350ml water
85g light brown soft sugar
70ml light soy sauce
4cm piece ginger, peeled and finely grated
1 tablespoon cornflour combined with 1 tablespoon of water
1 tablespoon rice wine vinegar
Popcorn chicken
2 chicken breasts
Small sourdough loaf
1 cup rice flour
1 egg
Wakame salad
60g dried wakame
½ teaspoon of salt
1 tablespoon soy sauce
3 tablespoons rice wine vinegar
1 teaspoon sesame oil
1 teaspoon brown sugar
½ cucumber thinly sliced
Sesame seeds to garnish
Method
Teriyaki sauce
To make the teriyaki sauce, mix all ingredients (except for the corn starch/ cold water mix) over medium heat in a saucepan.
Once the mixture is simmering, slowly add the corn flour mixture, while stirring, until the sauce thickens to your preferred consistency. Set aside.
Popcorn chicken
To make the popcorn chicken, first make the sourdough breadcrumbs. Start by cubing your small loaf and roasting for 10 mins at 150°C in an oven, and allowing to cool before blending into breadcrumbs. Season with salt and pepper. Optionally toss some chili flakes into the breadcrumbs for some extra heat.
Cube your chicken breasts into approximately 1-inch cubes.
Take a cube and dip in the rice flour, coating all sides and shake off any excess.
Next dredge it in the beaten egg mixture.
Finally, roll the cube in the sourdough breadcrumbs, again shake gently to remove excess.
Repeat until all cubes are coated.
Lay the cubes out on a lined baking tray and bake in a 200°C oven for 10-15 mins.
While still warm, toss in the teriyaki sauce.
Wakame salad
To make the salad, rehydrate the wakame in hot water for 20 mins, drain and rinse under cold water before patting dry.
Place the thinly sliced cucumber in a bowl and toss with the salt.
Leave for 5 minutes and drain of any liquid.
Whisk together the rice wine vinegar, soy sauce, sesame oil and brown sugar.
Toss the wakame, cucumber and dressing together.
To serve
Serve the wakame salad on a plate beside some popcorn chicken and garnish the whole plate with some toasted sesame seeds.
We served this with a little cooked quinoa on the side, and a squeeze of sriracha to taste!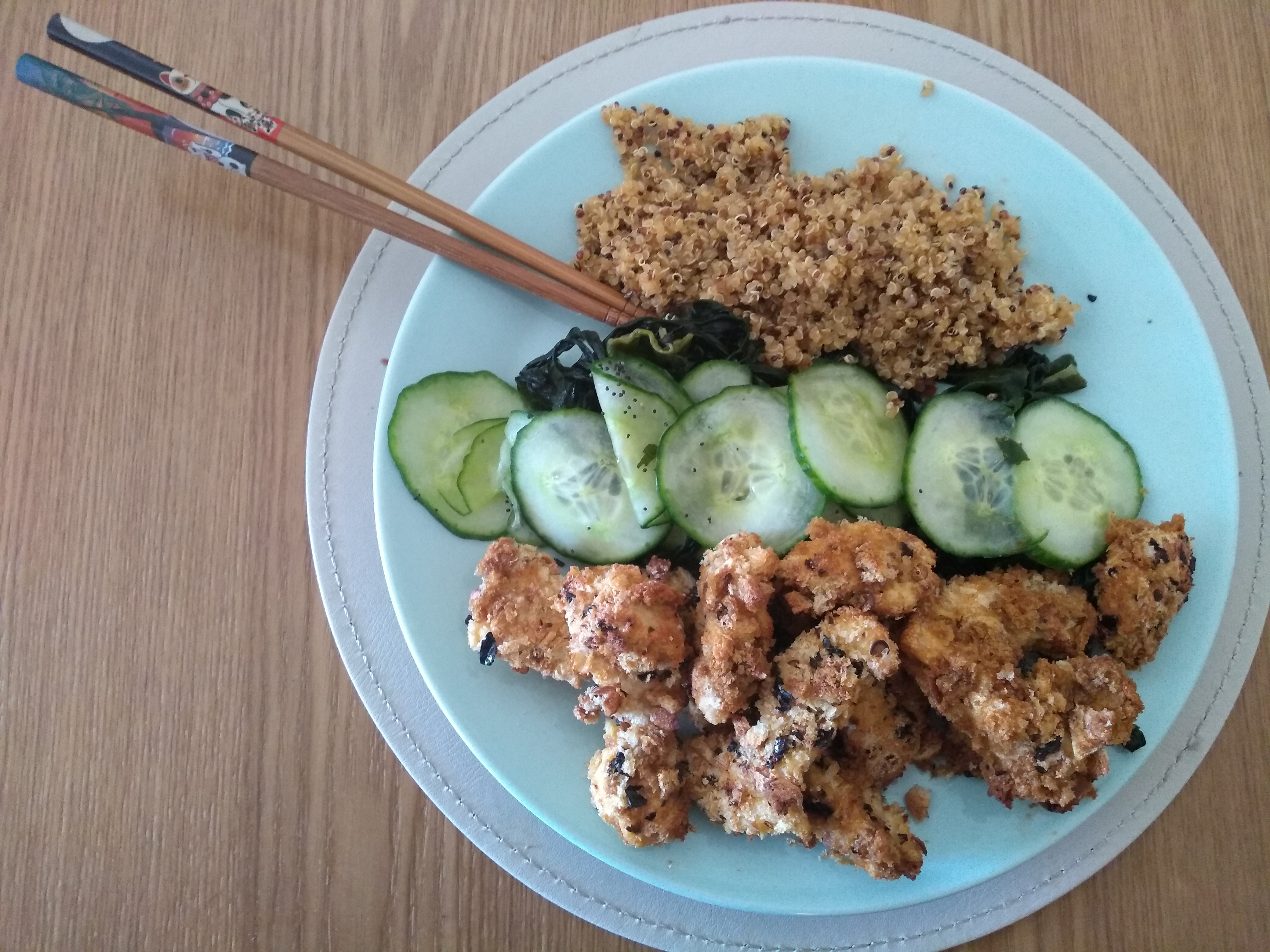 FoodMarble AIRE is the world's first personal hydrogen breath tester. It is a pocket-sized breath analysis device. It helps people with chronic digestive issues determine the foods that work best with their digestive system. To learn more about FoodMarble, visit foodmarble.com