Hello and welcome to the seventh instalment of The Digest. My name is Sophie and I'm an Engineer Intern here at FoodMarble! I've been working on the FoodMarble AIRE app and wanted to let you know about some of our app's latest updates!
Everyone here at FoodMarble has been very busy creating lots of exciting, new features in our app for you. Our goal is to make the FoodMarble app as useful as possible for our community and to help you find your foods. Without further ado, I'd like to introduce our latest updates: the new Menu, new Notes and Poop Logging and the new Goals feature.
The New Menu
The new Menu is designed to make the FoodMarble AIRE app as quick and simple to use as possible. It acts as your one-stop-shop where everything can be accessed. Go see what it looks like by pressing the big blue plus (+) icon at the bottom of the screen!
As the new Menu opens up you'll see the new list of logging options. These are:
Breath – take a breath test with your device to see your current fermentation levels
Meal – log a food or drink you've consumed
Symptom – log a symptom, e.g. bloating
Poop – This new feature allows you to log your poop
Stress – log your Stress Level – we suggest doing this at the end of the day
Sleep – log your Sleep – we suggest doing this first thing in the morning. You can set reminders in the app!
Notes – This new feature allows you to record something for the whole day, or at a specific time
Want to learn more about the new Notes and Poop Logging? Read on!
Poop Logging
You can now track your poop with FoodMarble! Your poop can tell you quite a bit about your body. For those of us suffering with IBS, and even those without, it is important to track your poop. IBS is subtyped based on a person's predominant stool type, e.g. IBS-C: constipation dominant, IBS-D: diarrhea dominant and IBS-M: a mix of constipation and diarrhea. Both diarrhea and constipation, or fluctuating between the two are common symptoms of IBS. Keeping track of your poop schedule can quickly alert you to changes in your body.
The Bristol Stool Scale
The Bristol Stool Scale is a diagnostic medical tool designed to classify your poop. It consists of seven categories. It helps patients and doctors discuss poop without having to examine your poop in detail. Besides being used by doctors, it can be a super helpful scale to use day-to-day to check that things are okay within your digestive tract and body.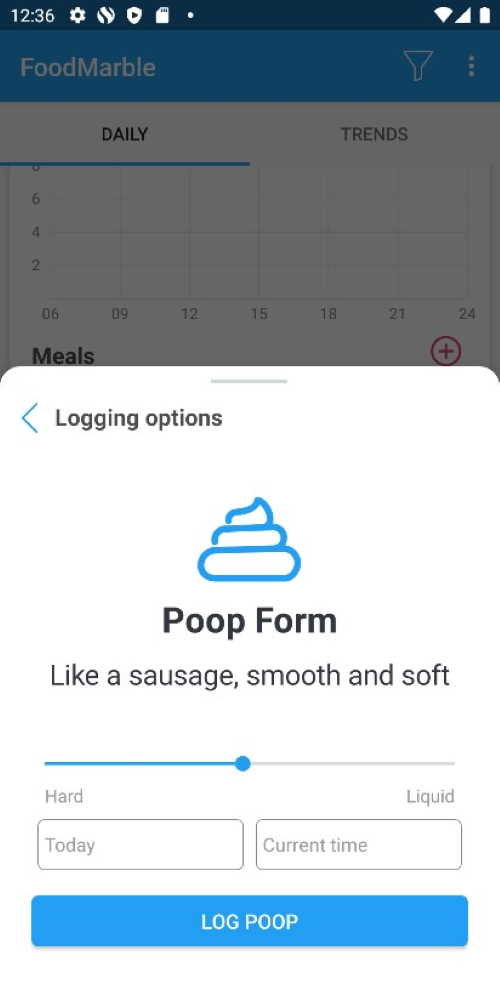 We have included an easy to use Poop Logging feature in the app. Based on the Bristol Stool Scale, we use a scale which ranges from Constipation (Type 1) to Diarrhea (Type 7). What's the goal? Somewhere in the middle is considered "normal" and what we should all aim for. You can log your poop quickly and easily through the new Menu. When you log a poop it won't appear on the main screen's Symptom Chart. However, if you press the Symptom Chart, your Poop Logs for that day will appear here in the symptom list, along with any digestive symptoms you logged that day. You can also see your Poop trend over the last 7 days (including an average) in the Trends section.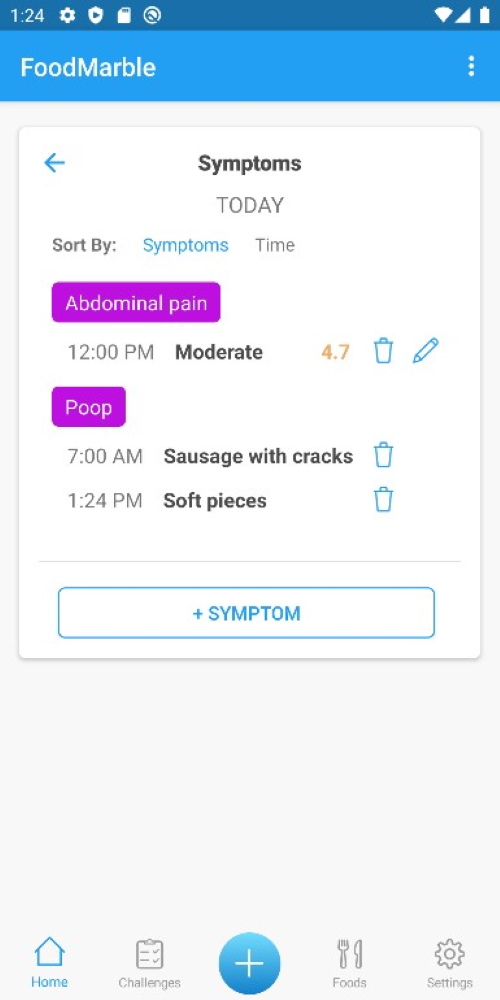 Note Logging
Another feature we've recently added to the app is Note Logging. You can access Note Logging through the "+" icon on the main screen. Our Note Logging feature is perfect for any extra information you want to note throughout the day.
For example, perhaps you want to note that you did some gentle exercise. Regular physical activity is thought to ease IBS symptoms. Using the Note Logging feature, you can mark whether you did some exercise. When you look back on that day's data you can see if this had an effect on your symptoms. Or maybe you're travelling somewhere, and you're wondering if travelling can cause your symptoms to worsen? By noting that you were travelling on a particular day you can see if this was related to any change in symptoms. This feature is great because it gives you free rein to note absolutely anything you think might be contributing towards improving or worsening your symptoms.
Setting your personal Goals
Setting goals is a great way to keep you on track! That's why we have added a new Goals feature to the FoodMarble AIRE app. Taking regular breath tests, logging your meals and symptoms as well as tracking your stress levels and sleeping patterns is crucial when it comes to pinpointing what is causing you digestive issues.
You can personalise your Goals through the Settings section of the app. Here you can select how many meals you want to aim to log in the day (by default this is set to 3). The app will automatically set a goal of 3 hourly breath tests per meal. You can also choose to incorporate logging your Symptoms, Sleep and Stress into your daily Goals by ticking the circle beside these.
We've also added new Goal icons to the Menu, letting you know how close you are to achieving your daily Goals. A green tick appears once the Goal has been completed! If the Goal is partially completed, a number and green arc is visible. This shows the extent to which the Goal has been reached. Who doesn't love the feeling of ticking a task off your to-do list!
I hope you like these new features as much as I do and that they help you track which foods are compatible with your digestive system. We've lots more features on the way, so keep your eyes peeled for updates.
Before you go…
Have any features in mind that you would like to see added in the future? At FoodMarble we love hearing feedback from our users, so please get in touch! You can email us at hello@foodmarble.com, or get in touch through any of our social media channels!
FoodMarble AIRE is the world's first personal hydrogen breath tester. It is a pocket-sized breath analysis device. It helps people with chronic digestive issues determine the foods that work best with their digestive system.
Read user reviews of FoodMarble AIRE on Trustpilot 
To learn more about FoodMarble, visit foodmarble.com or follow us on our social media channels