It's barbecue season right now and this can sometimes be difficult for people with sensitive guts. If you're heading to a family or friend gathering and are worried about what you can eat, offer to bring a dish with you – this way you can control what's in it and also help the host out a little! This large veggie pasta salad is nutritious and filling, and the turmeric and maple syrup dressing is an interesting flavour combination that will contrast well with the barbecued meat!
This pasta salad is also a great way to use up leftover vegetables from yesterday's dinner – roasted parsnips, broccolini or aubergine would all go really well. You could also add some fresh spinach to add some more colour – just make sure to use vegetables that you can tolerate.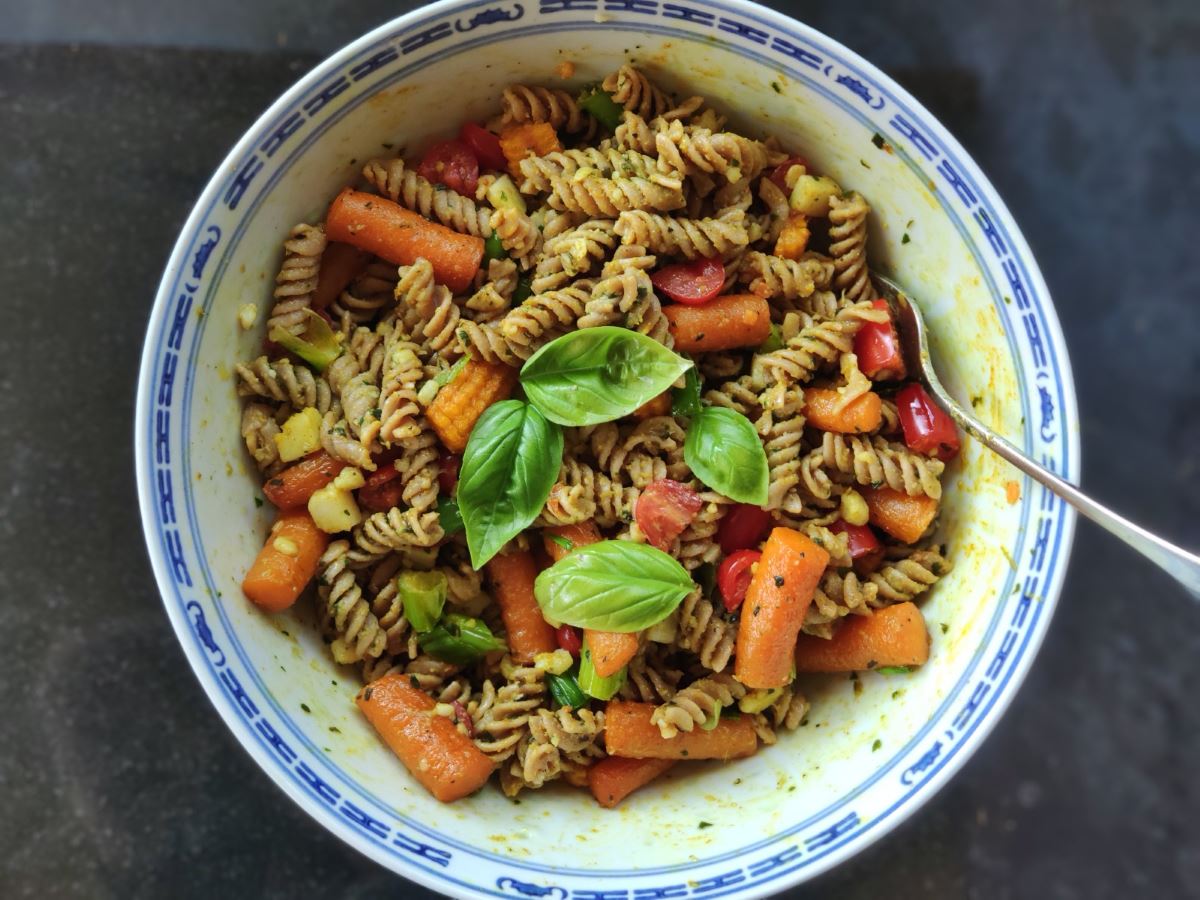 Recipe
Difficulty Rating: Easy
Prep/ Cooking Time: 40 minutes (if you have leftover roasted vegetables then the prep time is only as long as it takes to cook the pasta!)
Serves: This pasta salad was made for a group of 10 to eat as a side at a barbecue, so adjust the measurements if you want to serve it as a main course. The roasted vegetables bulk up the pasta a lot, so you don't need to use as much pasta as you think.
Ingredients
200g gluten free pasta
8 baby carrots, washed and trimmed
8 baby corn, washed and trimmed
100g aged goats cheese (if you don't like goats cheese you could use a different type of aged cheese, like aged cheddar) LOW FODMAP TIP: Check the nutritional info at the back of cheese packaging – the number corresponding to "Carbohydrates – of which sugars" tells you how much lactose is in the cheese (as long as there are no added ingredients like dried fruit etc.) In the case of the aged goats cheese I used, there was 0g "Carbohydrates – of which sugars" so I was confident that it was lactose free.
10 cherry tomatoes
2 tablespoons turmeric
1 tablespoon maple syrup
Olive oil for roasting the vegetables
Green parts of spring onions
Fresh basil leaves (optional)
Salt and pepper for seasoning
Method
Prepare the vegetables for roasting – cut the baby carrots and baby corn into bite sized pieces. The carrots will take a little longer to cook than the baby corn, so add them to the pan first. Drizzle with some olive oil and some salt. Place in the oven at 200 C for 15-20 minutes.
After 15-20 minutes, take the carrots out of the oven and add the baby corn to the pan. Add the maple syrup and turmeric and mix well. Add more oil if needed. Place back in the oven for a further 15-20 minutes until the vegetables are cooked through.
When the vegetables are cooked remove from the oven and allow to cool.
Cook the pasta according to the instructions. When cooked, drain thoroughly.
Prepare the cherry tomatoes by chopping into quarters.
Cut the cheese into small blocks.
Put the pasta into a large bowl and add the roasted vegetables and stir well. The turmeric, maple syrup and olive oil mix will act as a dressing and coat the pasta.
Add the chopped tomatoes and cheese and mix well. It's a good idea to wait until the pasta and vegetables have cooled down before adding the cheese, so it doesn't melt!
Add more olive oil if needed. You could also add some garlic infused oil if wanted.
Add the green parts of spring onions.
Top with the fresh basil leaves if you have them.
Season with salt and pepper to taste.
Serve the pasta salad cold – it goes great as a side to most meats or fish, and will keep well in the fridge for 2-3 days.
FoodMarble AIRE is the world's first personal hydrogen breath tester. It is a pocket-sized breath analysis device. It helps people with chronic digestive issues determine the foods that work best with their digestive system. To learn more about FoodMarble, visit foodmarble.com