They say Christmas is the most wonderful time of year. It's a time of family gatherings, parties and presents. It's also a time for overindulging in everything from mulled wine to leftover turkey sandwiches. While this is part of the charm for a lot of people, those with digestive disorders can find Christmas quite a daunting and stressful time of year.
Food always plays a central role in Christmas celebrations. So, following a low FODMAP diet can be even more challenging during the holiday season not just because of all that temptation but because a lot of traditional treats are not particularly FODMAP friendly.
To help you through the madness unscathed we at FoodMarble would like to share 7 tips that will hopefully make your Christmas a little less stressful. We also have a low FODMAP Christmas menu and recipes for all the items in the menu and also a grocery list that you can use to purchase the ingredients for the recipes, to help you plan a low FODMAP festive feast!
7 Tips to handle Christmas without a flare up

Preparation is paramount in managing stress levels. This goes for everything from buying presents, to booking restaurants and planning events for the big day itself. It's always a good idea to prepare elements of Christmas dinner in advance. The mince pies and squash soup on our menu can be made and frozen ahead of time.
It's a great idea to make sure you are well stocked up on enough low FODMAP staples and snacks to get you right through Christmas. It's very easy to plan for the twenty-fifth and wake up the day after to find the shops closed and you've run out of low FODMAP provisions!

It's easier said than done, but the more things you can make yourself the better. If you make your own stock and freeze it in advance you can avoid having to check the FODMAP content of stock cubes at the last minute. Or making your own cranberry sauce means you won't have to pore over the ingredient labels of jars in the supermarket.
Whether you're visiting friends for drinks or heading to the in-laws for Christmas dinner it can be helpful to offer to bring some snacks, side dishes or drinks with you. That way you don't have to worry about not having any low FODMAP options when you get there. The devilled eggs and muhammara dip on our menu are easy to prepare in advance.
Christmas day can be a bit of a marathon so it's important to be conscious of what you're eating and drinking. Even if you're consuming low FODMAP treats and snacks the cumulative effect can cause symptoms. If you're having more than one course for Christmas dinner, it's also a good idea to space them out and not rush things.

Exercise is vital in managing symptoms and relieving stress. There are so many other things going on at this time of year it's easy to forget to make time for your normal routines. It's also easy to forget that Winter is still a great time to get outside and get into nature. Even a quick walk (or swim!) on Christmas day can help to bring the stress levels down.
As hectic as Christmas can be it's important to remember that ultimately, it's not all about consumption, it's about spending time with family and friends. If it all gets a bit too much remember you're also allowed to put your feet up in front of the television and watch your favourite Christmas movie!
Low FODMAP Christmas menu
Check out our low FODMAP Christmas menu suggestions below. If you like the sound of these, keep an eye on our blog as we share recipes over the next few weeks!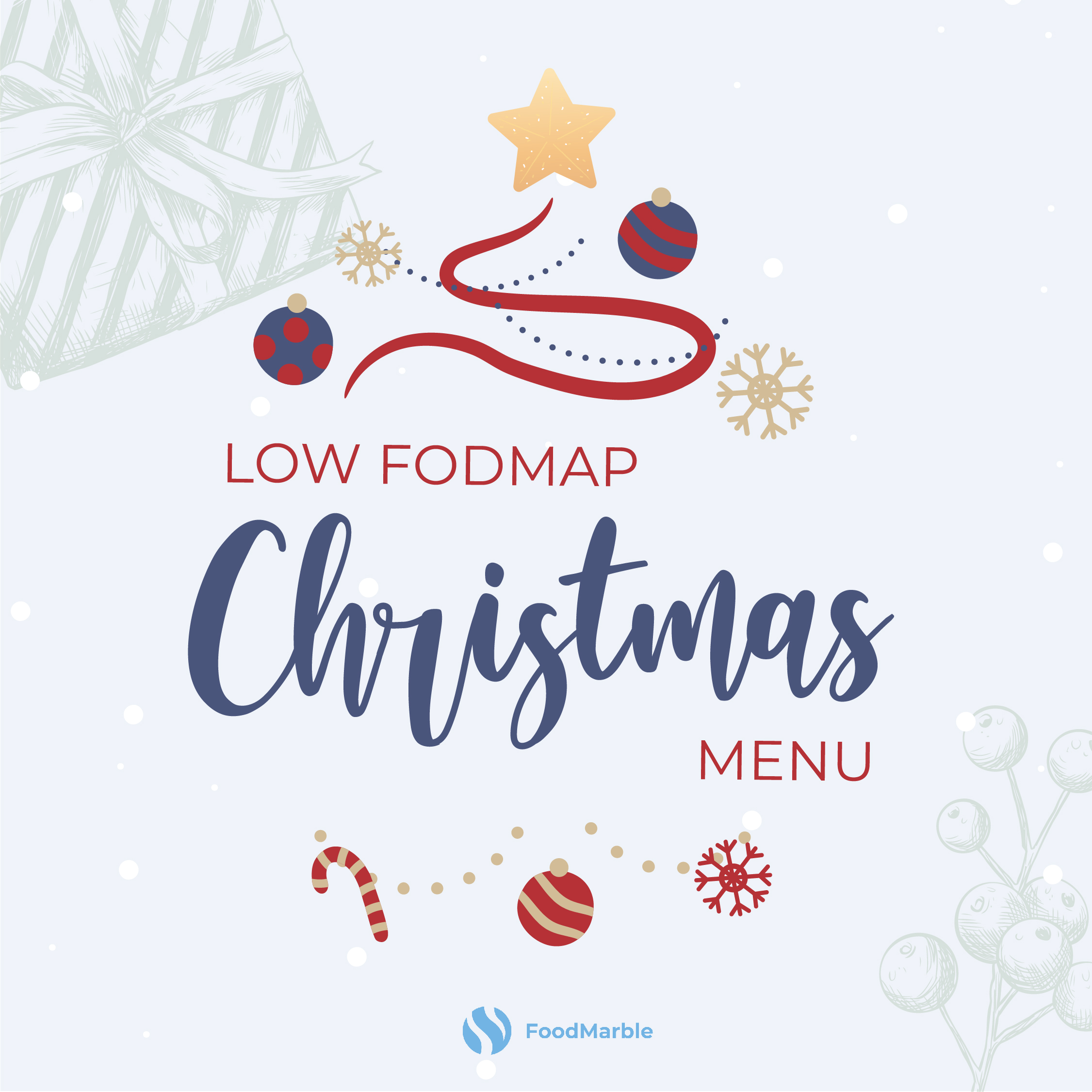 Treats and Snacks
                                 –
Starter
Main
Brined and spatchcocked roast turkey with sourdough stuffing
Maple glazed ham
Balsamic and brown butter roast potatoes
Braised red cabbage and fennel
Dessert
Chocolate and miso mousse with sesame brittle

Steps to access the list:
Download it or make a copy
Use it on your Christmas grocery run
FoodMarble AIRE is the world's first personal hydrogen breath tester. It is a pocket-sized breath analysis device. It helps people with chronic digestive issues determine the foods that work best with their digestive system.
Read user reviews of FoodMarble AIRE on Trustpilot 
To learn more about FoodMarble, visit foodmarble.com or follow us on our social media channels